(Last Updated On: November 14, 2014)
Paignton's Light Fantastic will be bringing some Christmas cheer to the town centre on the 22nd November .

The day will start with a traditional Christmas Carol Service will take place in Palace Avenue Gardens around the Tree of Lights led by the Christians together in Paignton, this year you will be able to fill in one of the many stars, to write a wish, a memory or something that you would like to go on the tree a personal message you wish to share with others. After the service join everyone for Coffee, Mince pies.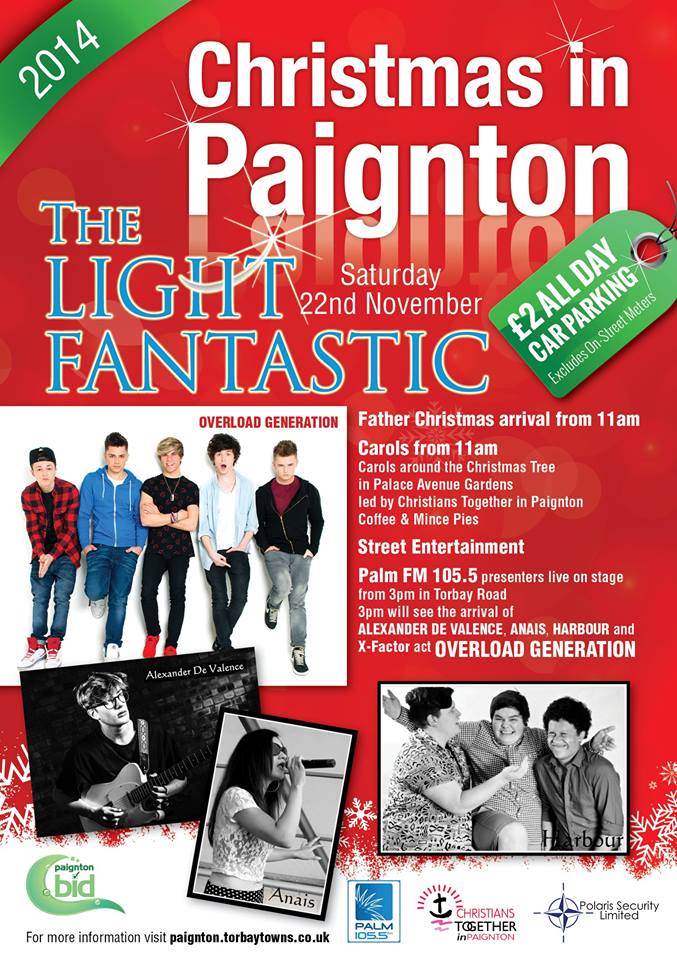 X factor act Overload Generation will headline Paignton's Christmas Light Fantastic with local supporting bands and singers Alexander De Valence, Harbour Band and Anais. Compared on the day by local radio station Palm FM 105.5 in Torbay Road from 3pm. Try your luck in the Palm FM Snow Globe Grabber to win prizes.

Father Christmas will again arrive in style on the back of a motor trike led by reindeer outriders with the support of Bikers Make a Difference (BMAD). Father Christmas will then make his way to open up his Grotto in Crossways shopping centre, which has been lovingly put together by the Grotties -a group of volunteers who work every hour to make sure that Father Christmas has a lovely place to stay while he visits.

Grotto charities this year include Children with Chronic Arthritis Association and the Louisa Cary Children's ward.

No need to rush back to the car with Torbay Council offering £2 for all day parking in the town centre car parks (Excludes on street parking)

For the latest news and updates from around the area, join us on Facebook.
Want to join the team? Email us: admin@wearesouthdevon.com


Error: Your Requested widget "Facebook like box (jetpack) " is not in the widget list.

[do_widget_area sanfrancisco-default-sidebar]

[do_widget id="media_image-29"]
[do_widget id="media_image-40"]
[do_widget id="media_image-38"]
[do_widget id="media_image-18"]
[do_widget id="media_image-36"]
[do_widget id="media_image-44"]
[do_widget id="media_image-43"]
[do_widget id="media_image-23"]
[do_widget id="media_image-42"]
[do_widget id="media_image-31"]
[do_widget id="media_image-28"]
[do_widget id="media_image-41"]
[do_widget id="metaslider_widget-2"]
[do_widget id="metaslider_widget-3"]

[do_widget_area widgets_for_shortcodes]
[do_widget_area wp_inactive_widgets]

[do_widget id="search-2"]
[do_widget id="search-4"]
[do_widget id="archives-11"]
[do_widget id="nav_menu-3"]
[do_widget id="archives-4"]
[do_widget id="archives-6"]
[do_widget id="text-2"]
[do_widget id="text-39"]
[do_widget id="categories-3"]
[do_widget id="recent-posts-2"]
[do_widget id="archives-2"]
[do_widget id="recent-comments-2"]
[do_widget id="categories-2"]
[do_widget id="meta-2"]
[do_widget id="eu_cookie_law_widget-2"]
[do_widget id="eu_cookie_law_widget-3"]