The final bridge beams will be installed tomorrow, Fri 21 November  across the South section of the Penn Inn roundabout (The beams lift is highly weather-dependent and may be postponed if weather conditions are too severe)
There will be traffic management measures in place from 7.30pm until 6am –
• At 7.30pm the northbound approach to Penn Inn will be reduced to one lane of traffic
• At 9pm the A380 southbound lane will be closed between Wear Barton and Penn Inn. All southbound traffic will be diverted through Newton Abbot via Kingsteignton. Light vehicles travelling from Shaldon Road towards Newton Abbot / Exeter will be able to use a temporary U-turn facility on the A380 adjacent to Addison Road. HGVs from Shaldon Road will not be able to negotiate this U-turn and will continue to the Romany Jones lay-by, carry out a U-turn and return north
• A380 northbound approach traffic will be held by temporary traffic signals for brief periods before Penn Inn while the beams are being lifted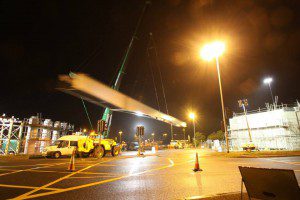 ---
A section of St Marychuch Road will also be closed this weekend.
As part of the construction of the new junction at the top of Aller Brake Road, contractors for Galliford Try will be temporarily closing a section of road in the vicinity of Twickenham Road, and traffic will be diverted through Milber.
Road signs have already been positioned to advise road users of this temporary diversion.
The road will be closed from 7pm on Friday 21November through to 7pm on Sunday 23November.
Once again these works are dependent on good weather.
website www.southdevonlinkroad.co.uk for the latest updates.
---
Next week the two new small roundabouts at Aller Cross will go live and take local traffic beneath the new Aller Cross Underbridge – a structure which will eventually carry the new A380 South Devon Link Road.
The new arrangements will replace the present junction between Aller Road, Old Newton Road and Kingskerswell Road, and incorporate a new side road for local access only.
This weekend Aller Road, Old Newton Road and Kingskerswell Road will be closed near Aller Cross from 7pm on Friday, 21November until 7am on Monday 24November to allow work to proceed.
The new road layout will greatly improve the movement of traffic and increase safety in the area, and allow contractors for Galliford Try to continue their work away from the public highway.
The new roundabout arrangement is scheduled to open the week commencing 24November. The final works are weather-dependent so in the event of poor weather this may be revised.
For more information and up to date news. Go to: www.southdevonlinkroad.co.uk