Miniature works of penguin art are being sold for charity.
Living Coasts has put 16 penguins, each 15 centimetre tall and beautifully decorated, up for sale on the charity's website.
Designs include a punk penguin with a Mohican, Harry Potter, a Wagnerian Valkyrie, Superman, a peacock penguin, a Dalek penguin and a Damien Hirst inspired design using 1800 rhinestones.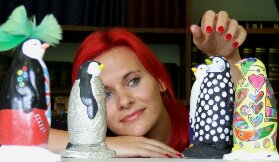 Some, including Punkquin and Super Penguin, have already been snapped up.
The models were displayed in shop windows around Torquay harbour as part of a free public art trail during the summer. They are being sold to raise money for Living Coasts' conservation projects.
Hayley Gibson, from Living Coasts, explained: "The trail ran from May to September and was really popular. The competition to collect all the letters and discover the mystery phrase was won by Joselyn, aged 10, from Brixham.
"The 16 are now for sale on our web site. There are some terrific penguins available – people put a lot of work into them. My favourite is Harry Potter." The mini penguins can be found at:
www.livingcoasts.org.uk.
A selection of penguins that were not part of the trail will be on sale in the Living Coasts shop from Saturday 25th October.