(Last Updated On: July 26, 2014)
[fblike style="button_count" showfaces="false" width="450″ verb="like" font="arial"]
A police car was involved a collision with another vehicle in the early hours of this morning.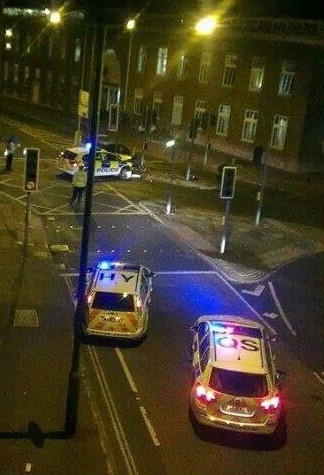 The crash, which happened outside of Torquay police station in South Street, Torre, Torquay is reported to have happened around 1 am this morning.

The police car and the Peugeot 206 were seriously damaged in the collision.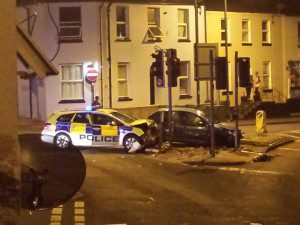 An ambulance was called to the scene.
A police officer and a person from the other vehicle were taken to hospital.
They are not thought to have serious injuries.
The police are now investigating the cause of the collision.
The details of how the collision occured is not yet known.
Thank you to Russell Bray, Dominic Benjamin French, Hayley Thomas and Alex Hill for contributing to this article.
Keep up to date about what's happening around South Devon,
join us on facebook.

Error: Your Requested widget "Facebook like box (jetpack) " is not in the widget list.

[do_widget_area sanfrancisco-default-sidebar]

[do_widget id="media_image-29"]
[do_widget id="media_image-40"]
[do_widget id="media_image-38"]
[do_widget id="media_image-18"]
[do_widget id="media_image-36"]
[do_widget id="media_image-44"]
[do_widget id="media_image-43"]
[do_widget id="media_image-23"]
[do_widget id="media_image-42"]
[do_widget id="media_image-31"]
[do_widget id="media_image-28"]
[do_widget id="media_image-41"]
[do_widget id="metaslider_widget-2"]
[do_widget id="metaslider_widget-3"]

[do_widget_area widgets_for_shortcodes]
[do_widget_area wp_inactive_widgets]

[do_widget id="search-2"]
[do_widget id="search-4"]
[do_widget id="archives-11"]
[do_widget id="nav_menu-3"]
[do_widget id="archives-4"]
[do_widget id="archives-6"]
[do_widget id="text-2"]
[do_widget id="text-39"]
[do_widget id="categories-3"]
[do_widget id="recent-posts-2"]
[do_widget id="archives-2"]
[do_widget id="recent-comments-2"]
[do_widget id="categories-2"]
[do_widget id="meta-2"]
[do_widget id="eu_cookie_law_widget-2"]
[do_widget id="eu_cookie_law_widget-3"]