This festive season Devon and Cornwall Police are running 'The 12 online frauds of Christmas' campaign to protect thousands of people in the community from falling victim to cyber-fraudsters.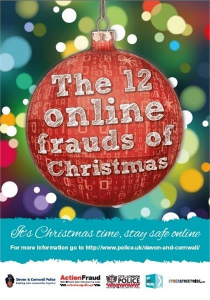 Last Christmas Devon and Cornwall shoppers fell victim to the online fraudsters by losing out on a quarter of million pounds worth of gifts – £325.055. Over a four month period,  443 reported incidents were made to police in the region.
Working in partnership with the City of London Police, which is the national policing lead for fraud, the police will be highlighting the do's and dont's of online shopping.
So far in 2014, 74% of all adults nationwide have bought goods or services online, and this December around 50% of UK citizens are expected to use the internet to buy more than half of their Christmas presents.
The good news is the majority of us will still have our presents delivered to our doorstep or into our email account without a hitch.
However, the sad reality is there will also be tens of thousands of people across the UK whose Christmas will be damaged, and in some cases destroyed, after finding out they have fallen foul of heartless criminals who specialise in tricking internet users with the promise of great online deals and big cash savings.
'Cyber Monday' focuses on the hazards of opening Christmas e-Cards sent via email which, unknown to the recipient, may be carrying a virus (malware) that can embed itself and then corrupt your smart phone, tablet or laptop.
And then, every 24 hours for the next ten working days, Devon and Cornwall police will be working with 37 other local police forces and a range of public and private sector organisations to flag up the threat of ten more online festive frauds, identified by the City of London Police's National Fraud Intelligence Bureau (NFIB). The December running order is:
Nov 28: Online shopping fraud
Dec 1: Christmas e-cards
Dec 2: Auction fraud
Dec 3: Holiday fraud
Dec 4: Loan and investment scams
Dec 5: Ticketing fraud
Dec 8: Donating to charity
Dec 9: Mobile malware/malicious apps
Dec 10: Money transfers
Dec 11: Social media scams
Dec 12: Dating/romance scam
Dec 15: Mobile payments
DCI Stuart Cavin, from Devon and Cornwall's Serious Organised Crime Unit, says:
"Devon and Cornwall police were really keen to be part of this national campaign which is essentially about ensuring that we are safe online.  This time of year sees an increase in  shopping and general online activity and we want to take this opportunity to shine a light on the potential risks from both fraudulent activity and the wider use of the internet for further criminality.
"The 12 online frauds of Christmas campaign highlight those key areas of crime which affect many people within our communities and the key to reducing this harm is to prevent this now and in the future.  In addition the campaign raises awareness of what we, as individuals, can do in terms of ensuring our computer systems are sufficiently capable of offering online protection."
More internet safety advice can also be found at www.getsafeonline.org and www.cyberstreetwise.com.   We will also be urging anyone who has had the misfortune to fall victim to one of the dozen festive frauds, or any other type of cyber-fraud, to report to Action Fraud – www.actionfraud.police.uk  or call the national helpline on 0300 123 2040.