This piece of art has been Spotted in Hollicombe, Torbay.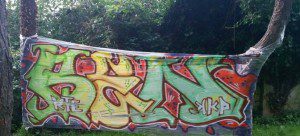 The artist has used cling film between two trees as a 'canvas' for his work.
Cling film art has become increasingly popular recently. Since it can be removed, it seems to attract a positive response.
Are you the artist that created this work or do you know who the artist is? Get in touch admin@wearesouthdevon.com
So what do people think of this latest addition to Hollicombe?
So what do you think?
Join us on facebook
[do_widget "Facebook like box (jetpack)"]