On 13th December from 10 – 4 why not check out the final Pop Up Indie Market inside the Town Hall? There will be some hand painted fabulous banners hanging outside creating a bit of colourful art whilst inside there will be an eclectic mixture of some of  the wonderful artistic local talents who come out of their studios and hidey holes to show their wares.
There are painters, there are textile artists, there are illustrators, there are clothes makers, there are vintage sellers – selling toys, bags, clothes, jewellery – all sorts of nick-nacks – there are sweetmakers, cd sellers, photographers, upcyclers, recyclers and all sorts if interesting bits and bobs.
There is a lovely café area to pull up a chair and have a cuppa and  a cake – maybe meet your friends, maybe just shop, maybe listen to the live music.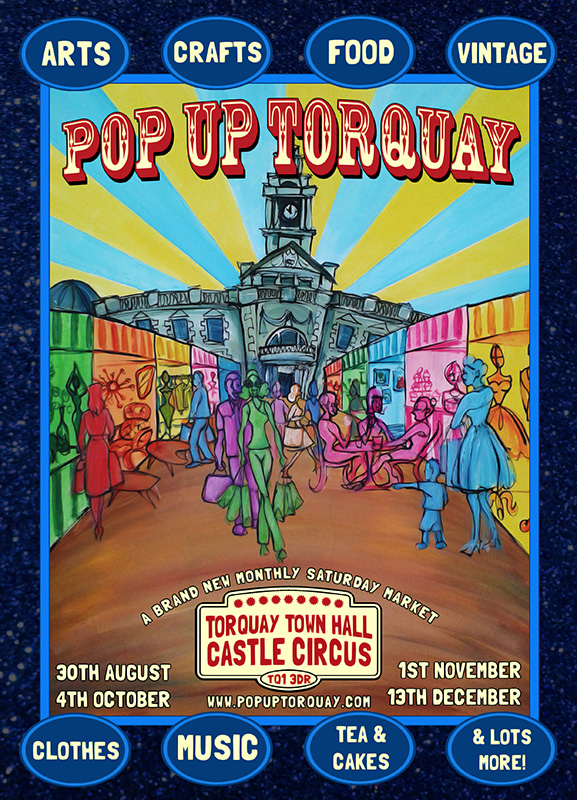 It's totally free of charge to come in people come to have a look last month and end up staying for hours!
Pop Up Torquay offers an alternative to complement the high street shops – we all know that money is tight and it's easy to take advantage of all the high street offers but why not also buy from someone local, someone who has made the thing that you are considering buying, someone who will smile when they talk to you and someone who will benefit from your purchase.
Shopping local is good for the local economy – it's good for your purse, for the environment and good for your soul.
You can follow Pop Up Torquay on line on facebook, twitter and via the website www.popuptorquay.com