[fblike style="button_count" showfaces="false" width="450″ verb="like" font="arial"]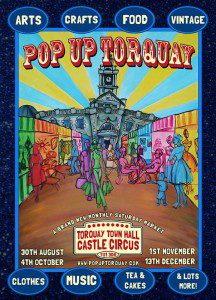 A new monthly market will be hitting the Torquay scene in style. Pop Up Torquay, the new venture is being kick-started by Mark and Sarah Bell (of Kinky and Quirky fame). The couple are hoping that the new market will make a real difference to the local economy, as well livening up the town centre in the process and helping Torquay to find its true identity. Many towns are affected by empty shop fronts and lack of foot traffic; street markets are a unique experience that can help rejuvenate towns and appeal to both locals and tourists. They also serve a great purpose for small businesses in that they can showcase their wares in a cost effective way, whilst providing memorable customer service.
With the support of the town centre management, this new pop up market will be a great opportunity for small businesses, local craftsmen, artists, bakers and more to thrive together in an alternative market. Pop Up Torquay celebrates everything from indie to unique, as well as everything in between, this is a great chance for the local community to come together and build something that we can all be proud of. Everyone is encouraged to get involved, regardless of what you wish to sell or do; clothes, food, live music or theatre – the more the merrier!
Many of us opt to go to other towns or cities that have more of a unique identity and culture, places that hold regular markets that thrive all year round such as Totnes or Exeter. These days people want more than just what high street shops can offer, having a diverse range of independent traders selling items that you can't just buy in your local brand store is the key to survival for Torquay. Fortunately for us, community-spirited Mark and Sarah Bell want to help improve Torquay and get the community involved in the process:
We all read, and probably make the comments, about how the town centre is, we all say "We'll go to Totnes or Exeter or Dartington or Brixham" – well here's the opportunity to build something here in Torquay – this is something that we know will start small but that will evolve and get bigger as people hear about it & get involved.
If you want to get involved and make a difference, even if you just have ideas that you think could work then contact the lovely people at Pop Up Torquay.
Pop Up Torquay will be held in the Torquay Town Hall in Castle Circus. The first market will be held on the 30th August, following dates for the rest of this year will be 4th October, 1st November and 13th December.
Keep up to date about what's happening around South Devon, join us on Facebook.