(Last Updated On: July 7, 2014)
Here's looking at you, duck!
A five-day old spectacled eider duckling exchanges a glance with zoo keeper Sarah Tingvoll at Living Coasts in Torquay.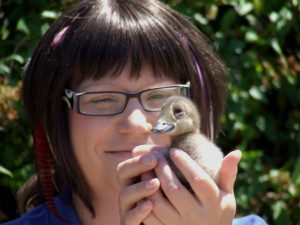 Spectacled eiders are rarely seen in zoos – Torquay's coastal zoo and aquarium is one of only five public collections in Europe to house them. Only one other zoo in Europe has bred them in the last twelve months. But clearly these ducks have taken to the English Riviera.
Living Coasts' Clare Rugg explained: "They are hard to keep because they have very particular needs, including a large salt water pool for swimming and displaying and thick vegetation in which to lay their eggs. We have been very successful with them over the years – we have bred 20, including two this year. We have a great team of keepers here. We have moved many adult birds on to other collections."
Spectacled eiders (Somateria fischeri) are large sea ducks found on the inshore waters and coastal tundra of Alaska and Siberia. They are threatened by hunting and climate change.
The adults have special glands which allow them to drink salt water, but these are not fully developed in ducklings, so youngsters require fresh water in which to learn to swim. This is one reason why the ducklings are being reared by keepers; another is their curious neighbours:
Clare: "They share the beach with the penguins, who can be very inquisitive over eggs. So we take in the eider eggs, hatch them, rear the ducklings and get them swimming. They go out on Penguin Beach in a crèche, so they can see the other ducks and get used to their home." For more information go towww.livingcoasts.org.uk or ring0844 474 3366.
Error: Your Requested widget "Facebook like box (jetpack) " is not in the widget list.
[do_widget_area sanfrancisco-default-sidebar]

[do_widget id="media_image-29"]
[do_widget id="media_image-40"]
[do_widget id="media_image-38"]
[do_widget id="media_image-18"]
[do_widget id="media_image-36"]
[do_widget id="media_image-44"]
[do_widget id="media_image-43"]
[do_widget id="media_image-23"]
[do_widget id="media_image-42"]
[do_widget id="media_image-31"]
[do_widget id="media_image-28"]
[do_widget id="media_image-41"]
[do_widget id="metaslider_widget-2"]
[do_widget id="metaslider_widget-3"]

[do_widget_area widgets_for_shortcodes]
[do_widget_area wp_inactive_widgets]

[do_widget id="search-2"]
[do_widget id="search-4"]
[do_widget id="archives-11"]
[do_widget id="nav_menu-3"]
[do_widget id="archives-4"]
[do_widget id="archives-6"]
[do_widget id="text-2"]
[do_widget id="text-39"]
[do_widget id="categories-3"]
[do_widget id="recent-posts-2"]
[do_widget id="archives-2"]
[do_widget id="recent-comments-2"]
[do_widget id="categories-2"]
[do_widget id="meta-2"]
[do_widget id="eu_cookie_law_widget-2"]
[do_widget id="eu_cookie_law_widget-3"]