Two key local names have joined forces to sell beer for charity this summer.
Paignton Zoo and Bays Brewery are hoping Rhino Ale will raise funds for Critically Endangered black rhinos in Africa.
The beer is being sold in bottles and casks across the South West, with Wetherspoons stocking it in 24 pubs in Torbay, Exeter and Plymouth. The Zoo, a registered charity, will receive 10p per bottle from Bays Brewery and 10p per pint from Wetherspoons. It follows on from Bays Brewery's successful Great Gorilla Ale last year.
Pete Salmon, Director at Bays Brewery said "We are delighted to have teamed up with Paignton Zoo again and this time produced this limited edition Rhino Ale. It's a great way to raise awareness and also much needed funds for an endangered species – as well as enjoying a refreshing pint of ale!"
Rhino Ale is described as an easy-drinking light golden ale.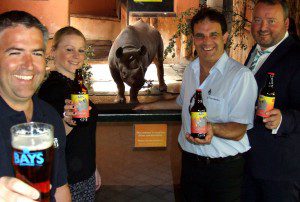 The Whitley Wildlife Conservation Trust is the charity behind Paignton Zoo Environmental Park, Living Coasts in Torquay, Newquay Zoo in Cornwall and several nature reserves. Money raised will go towards the Trust's work in Zimbabwe.
Bottles of Rhino Ale are available in Newquay Zoo's Café Lemur and from the bars at both Paignton Zoo and Living Coasts. Paignton Zoo's Pippa Craddock said: "We're hoping for a lovely sunny summer when people can sit back and relax with a rhino!"
Paignton Zoo Environmental Park is a registered charity. For more information go to www.paigntonzoo.org.uk or ring 0844 474 2222.