People paid tribute at remembrance Sunday services and parades across South Devon this morning.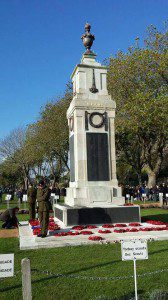 Services and events took place across the country today.
Many people went to the parade in Torquay, people have been sending in their photos:
Thank you to Joanne Blakeman, Laurence Barney and Michelle Spencer-Smith for contributing to this article.
If you would like to add any photos, please email us on wearesouthdevon@gmail.com
Remembrance Sunday is the 2nd Sunday in November. It is a day to reflect and to remember all those who have given their lives for the peace and freedom we enjoy today. This year marks the 100th anniversary since the started on world war 1.
Torquay's Sand man was out on Torre Abbey Sands today and created this beautiful tribute: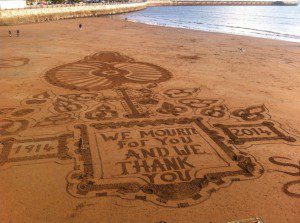 In Flanders Fields
In Flanders Fields the poppies blow

Between the crosses, row on row,
That mark our place; and in the sky
The larks, still bravely singing, fly
Scarce heard amid the guns below.
We are the Dead. Short days ago
We lived, felt dawn, saw sunset glow,
Loved, and were loved, and now we lie
In Flanders Fields.
Take up our quarrel with the foe:
To you from failing hands we throw
The torch; be yours to hold it high.
If you break faith with us who die
We shall not sleep, though poppies grow
In Flanders Fields
 John McCrae