[fblike style="button_count" showfaces="false" width="450″ verb="like" font="arial"]
A South Devon computer science student has created a free iPhone app for the charity that inspired him as a child.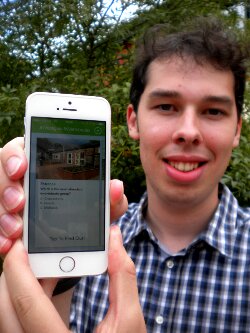 Robin Bailey, who is studying Computer Science at Plymouth University, was a member of Paignton Zoo's Gibbon Club when he was at primary school. He is now a volunteer at the Zoo – and helps with Gibbon Club.
The app, called INVestigate INVertebrates, has been launched to tie in with Paignton Zoo's Investigate exhibit, which focuses on invertebrates.
Lisa Stroud, Paignton Zoo's Head of Education, explains how the idea for the app came about: "Something like this was on our wish list but we couldn't afford it – until Robin came along! He approached us to do a really worthwhile final year project and we jumped at the chance. It turns out the I in iPhone actually stands for Invertebrate and Inspirational!"
The app is part of Robin's final year university project. He started developing it in September last year and has just completed it after putting in some 400 hours. "It sets you a series of multiple-choice questions to which you can discover the answers using the interactive elements of the app. Once finished you can submit your results and get a ranking – these are Chief Scientist, Trainee Scientist or Lab Assistant. Each has its own badge, which you can share via Twitter, Facebook and email. Anyone over the age of 8 will get a lot out of this!"
It can work in conjunction with the Investigate exhibit or stand alone, so it can be downloaded and used at home. Robin added: "This is a fun and interactive way for people to learn how invertebrate characteristics have inspired and informed some incredible scientific developments in fields such as medicine, digital technology, robotics and communications."
The free app is available for download from the Apple App Store, where it will be listed as INVestigate INVertebrates at Paignton Zoo or can be directly downloaded by visiting bit.ly/investigateapp. Paignton Zoo Environmental Park is a registered charity.
Keep up to date with what's happening around South Devon and join us on facebook
[do_widget "Facebook like box (jetpack)"]