Paignton Zoo's adult male orang utan has died. Bornean orang utan Demo was found by staff on Monday morning. He was being treated for a reoccurrence of a respiratory infection which had plagued him on and off since before he arrived at Paignton Zoo.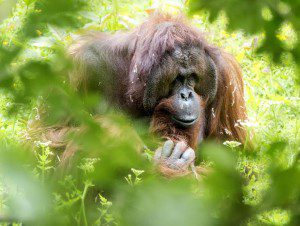 Demo was born on 6th September 1998 at Aalborg Zoo in Denmark. He was moved to Munster Zoo, in Germany, when he was 6 years old, then came to Devon in November 2007. He recently fathered two babies; Tatau was born in April 2013 and Natalia in late December of the same year. Tatau was the conservation charity's first orang utan birth in 16 years.
Paignton Zoo head vet Ghislaine Sayers said: "He came to Paignton Zoo with an upper respiratory tract infection. This is a common problem in orang utans and can lead to repeated bouts of illness. After a long period of treatment he became a healthy-looking specimen and fathered two babies. But recently he'd had another bout of illness.
"Getting medication into an ape that doesn't want to eat can be challenging, but with the keepers' help we managed to treat him by injection. Preparations were being made to carry out a CAT scan of his sinuses so we could treat him more effectively. Unfortunately, there are many risks associated with anaesthetising an orang utan with breathing problems and we had to improve his general condition before the CAT scan could take place."
Staff took advice from colleagues at other zoos. Over recent days Demo deteriorated quickly and developed pneumonia.
Matthew Webb, Paignton Zoo's Senior Head Keeper of Mammals, said: "He was a typical male orang utan, stubborn and cheeky at times, very much loved by his keepers. He was a late developer, but he was just coming into his prime."
Paignton Zoo Environmental Park Director of Operations and Curator of Mammals
Neil Bemment said: "There are breeding programmes in zoos worldwide and Paignton Zoo is part of the European Endangered species Programme for Bornean orang utans. We are sad to lose him, but at least he has done his bit for the future of the species by fathering Tatau and Natalia."
Regular visitors and long-time volunteer photographers Jean and Ray Wiltshire added: "We will sorely miss him, he was sometimes not seen but he was always heard on his island. Thankfully he has left his legacy in that lovable pair Tatau and Natalia. He is gone but not forgotten."
Paignton Zoo's remaining Bornean orang-utans are females Gambira (16), Chinta (22) with her baby Natalia and Mali (18) with her baby Tatau.
The number of Bornean orang utans in the world is estimated at around 50,000, which means there are fewer Bornean orang utans in the entire world than there are human beings in Torquay (the population of Torquay is about 62,000). In the wild they may live to 35 or 45 years, while in zoos that can extend to up to 60.
The Bornean orang utan (Pongo pygmaeus) is threatened by hunting, the pet trade and the destruction of its rainforest habitat. Forest is being destroyed to create palm oil plantations. Given the declining populations, measures such as switching to alternative oil products and maintaining sustainable populations of orangs in zoos are becoming ever more important. Paignton Zoo Environmental Park is a registered charity. For more information go to www.paigntonzoo.org.uk or ring 0844 474 2222.