A polar bear called Bjorn is coming to the English Riviera – for one day.
Bjorn is a life-size and incredibly life-like animatronic. The huge, hi-tech puppet will perform three 20-minute shows at 11.00am, 2.00pm and 3.30pm on Wednesday 29th October.
Bjorn is playful, mischievous and extremely huggable, and is just about kept in check by Arctic explorer Ursula. Their science-based show has been performed at events such as BT Young Scientist of the Year, Cambridge Science Week, W5 Science Centre & World Oceans Day.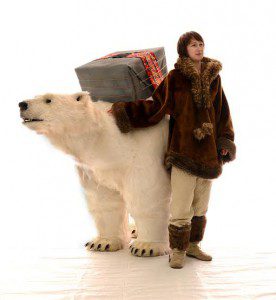 Hayley Gibson, of Living Coasts, said: "It is a great coup for us to have Bjorn coming to Living Coasts. We are involved in Pole to Pole, a major international campaign to raise awareness of climate change, and Bjorn is an important part of that."
The shows take place in the zoo's café. Tickets are £5.00 per child (regardless of age) while accompanying adults go free. For this price children are also able to paint their own polar bear model to take home. Normal admission charges apply to the main part of the site.
In addition, there will be exclusive tickets at £40 per child, limited to just 10 places. These tickets also give admission to the zoo for one child and one parent, plus a chance to feed the penguins and a cuddly polar bear gift.
Tickets can be purchased online. A maximum of 50 children can attend each show. For more information go to www.livingcoasts.org.uk or ring 0844 474 3366.