Update: 1/12/14 Morley is safe and well. https://wearesouthdevon.com/missing-man-morley-petherick-safe-and-well/

Update – 28/11/14: Morley is still missing.
https://wearesouthdevon.com/major-search-continues-dartmoor-missing-man/
Dartmoor Search and Rescue teams have assisted with the search for Morley yesterday and today.
DSRT (Ashburton) posted this to Facebook this morning:
"A very long search yesterday for our volunteers with DSRT Search managers coordinating the efforts of all 4 DSRT teams, search dogs, Devon and Somerset Fire & Rescue Service and Devon Cave Rescue Organisation, as well as police search teams.
We finally stood down at 12:30 last night, 13 hours after the initial call out to the team. We left colleagues from the cave rescue teams to concentrate on some mine workings. The search effort will continue today."
The search for Morley will continue tomorrow (Saturday)
---
Police in South Devon are appealing for help to locate a reported missing man.
Police are becoming increasingly concerned for the welfare of Morley Petherick who has been missing from his home in Ashburton since Sunday.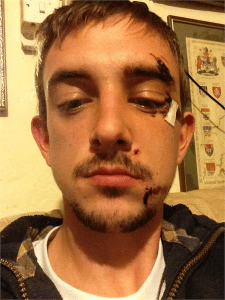 Morley (pictured)  who is aged 25 years is described as being a white man 5'7" in height, slim build, with dark short hair and facial stubble.
[Please note: The image is the best photo that the police have received. The injuries he has in it are nothing to do with him being reported as missing]
It is not known what he is wearing.
Police are carrying out local enquires in an effort to locate him and are appealing for help from the public.
Anyone who sees Morley is asked to contact police on 101 quoting police reference 650 241114.
For up to date news from around South Devon, please join us on Facebook:
[do_widget "Facebook like box (jetpack)"]