Volunteers at the RNLI shop in Exmouth alerted the Coastguard to a kitesurfer in difficulty this morning (6 October)
The kitesurfer's companion raised the alarm by banging on the RNLI shop door. The volunteers then called the Coastguard to set off crew volunteers' pagers.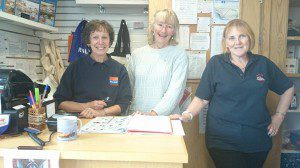 Inshore lifeboat George Bearman was launched at 9.19am to rescue the local man who had fallen off his board in the storm and after the wind dropped, was unable to raise his kite. He was brought ashore uninjured.
Fortunately, volunteers at the shop had started early this morning as they were taking a delivery of charity Christmas cards.  The shop is normally open from 11am-4pm.
People are reminded to call 999 or 112 in an emergency to start the rescue process as volunteers are not always at the station.
Crew volunteers are called to the station by their pagers
Whilst still on the ramp, the inshore lifeboat volunteers were tasked to various boats adrift on the river after this morning's storms. Arriving on scene at Lympstone and Starcross they secured a number of boats, one which had started taking on water.
You can show RNLI Exmouth some support by giving them a 'like' on Facebook
Great work by everyone involved!
Keep up to date with what's happening in the area, join us on facebook…
[do_widget "Facebook like box (jetpack)"]