(Last Updated On: November 4, 2014)
From the minute they are born, children's photos are uploaded to social networking sites.
Parents have been given a platform to show off their offspring and many upload every milestone – their first bath, their first tantrum, their first Poo! (Yes, I have seen this on someone's Facebook!)
Before they are even born, they are our pride and joy. We want to share our joy with the world and Facebook has made this easier. For many children, the first photo of them to be uploaded to Facebook is their scan image.
Fresh out the womb, their next photo is uploaded….
Facebook is a quick way to share images with friends and family around the world. Within seconds, you have introduced people to your new bundle of joy. Amazing!
But should we as parents be mindful of what we upload?
Most of us will have our privacy settings set to 'just friends' allowing only our facebook friends to see the content of our facebook profile (if you are unsure, please check)
However, do we know all of our facebook friends personally? We asked on our Facebook page and it would seem most of us do. But of course, how well do you ever know anyone?
Some social networking sites do not have the luxury of privacy settings, once an image is uploaded, it's available for all to see.
---
If you follow our facebook page, you may have seen that we asked parents to get in touch. We asked their views. Here is what they said:
Melissa told us:
"Facebook is a great way of staying in touch with our friends, sharing special and funny moments in our busy lives with very little effort on our behalf. We can upload pictures whilst in a queue and send a friend a few words to cheer them up whilst waiting for the kettle to boil, especially useful when friends are all around the globe and we are unable to get to them, to help them through tough times or to celebrate the good times.

"We have a joint Facebook account, and being ex military, have friends far and wide that frequently move and Facebook enables us all to share all the good and bad times at the click of a few buttons. Some of the friends on our account won't have seen the children for five years. ALL of the people that we have as our friends on our Facebook are our friends, we don't collect them in on our virtual account, the same way that we don't immediately let new friends in to our private lives when we make them.

"We are a mum and dad of four children aged 18, fifteen, eleven and seven.
Whilst we love to share our moments with our friends, we do not publicise on Facebook or anywhere else, pictures of our children naked, or in the bath, nor have we ever. (We have posted pictures of our children in swimming costumes when we are on a day at the beach.). We have taken photos of our children on the first day of the September term and put this on for our friends to see. I appreciate that some some parents feel that this is advertising where our children attend school.

"The bad people that we are protecting our children from no doubt could hack our account in moments, should they chose to, so we, as responsible parents, should do everything we can so that those pictures are not available on any social media to be hacked in to.
As the two children are older and manage their own Facebook accounts, we have installed in them, responsibility of loading their own pictures in the correct manner with the content being appropriate and both children do this, thankfully having a great understanding of how a picture is capable of going viral, and equally of being used out of context.

"It is sad that we can't be as free with our pictures of our children as perhaps our parents were, but back then, family and the neighbours would likely be the only ones that saw the pictures, until your 18th birthday party of course, and it is equally sad that our children can't run around naked and free as we did when we were younger (I think I used to be naked at the beach until I was about 8!), but with such horror stories almost daily in the press, this is a matter that any responsible parent can not simply leave to chance that the pictures will stay private if they are being loaded on to social media sites."
Kayleigh said:
"I upload pictures of my little one when we have days out ect. but never any naked or bath images. I have all my privacy settings on friends only I would never have them public"
Kelly added:
"I personally do upload pictures of my children in a nice moment or special events and occasions never bath pictures or anything exposing the body on to my Facebook I do have my privacy settings very high you cannot find me if you search me and I always put it so only friends can see my posts. However my 11 year old who loves to sing wants to be put on YouTube and for me that's a big no no as no privacy and anyone could comment I do worry about people lifting the pictures and using them but I think it's just as dangerous these days in the street beach play cafes etc with the use of these high tech phones so you can't live your life in fear."
And Jame's view:
"I think people are becoming more aware that setting your Facebook to 'Friends only' is not enough, anyone of those people that you are 'friends' with could share it else where. Paedophiles do not come labelled and the ones that have been convicted are just the ones that have been caught."It is not just posting naked photos that you should be wary of. Don't post too much information either. I expect most people can tell you your child's name, age, home town, birth date and school from your Facebook posts… You wouldn't send your child out in public with this printed on a t shirt. Don't post it online!"
---
Some things to consider…
-Is it appropriate to post?
Bath photos, naked photos are probably not a great idea. Even if your settings are private, the photo can be clicked on and saved by anyone in your friends list and anyone who has access to that persons account.
– Does it give away too much information?
First day at school is a proud moment. It also tells everyone on your facebook list where your child goes to school.
– Tagging
Do you ask permission before tagging a friends child in you photo? Do you make sure friends ask you?
When a friend tags you in an image or you tag them, you lose control of who has access to that image. Depending on their facebook settings, that image could become public. They may also be 'friends' with people that you would not want to have access to your child's image.
-Photos that may embarrass your child.
This is a prime example. Did the parent intend for it to go viral? Who knows but it did and there is no way to undo that.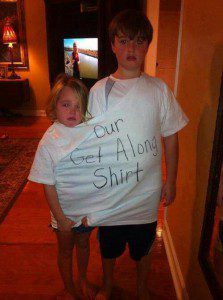 -Anonymity
Say goodbye to your child's anonymity in the future. In this digital age, if people want to find photos of them online, they will probably will.
-Permission
Young children do not have capacity to understand the possible implications of having their image shared on social networking sites, even if we asked permission, ultimately it is the parents responsibility to protect their children.
Only time will tell if there will be lawsuits against parents from children who argue that their images should never have been uploaded.
What do you think? Join us on Facebook and get involved.
Error: Your Requested widget "Facebook like box (jetpack) " is not in the widget list.
[do_widget_area sanfrancisco-default-sidebar]

[do_widget id="media_image-29"]
[do_widget id="media_image-40"]
[do_widget id="media_image-38"]
[do_widget id="media_image-18"]
[do_widget id="media_image-36"]
[do_widget id="media_image-44"]
[do_widget id="media_image-43"]
[do_widget id="media_image-23"]
[do_widget id="media_image-42"]
[do_widget id="media_image-31"]
[do_widget id="media_image-28"]
[do_widget id="media_image-41"]
[do_widget id="metaslider_widget-2"]
[do_widget id="metaslider_widget-3"]

[do_widget_area widgets_for_shortcodes]
[do_widget_area wp_inactive_widgets]

[do_widget id="search-2"]
[do_widget id="search-4"]
[do_widget id="archives-11"]
[do_widget id="nav_menu-3"]
[do_widget id="archives-4"]
[do_widget id="archives-6"]
[do_widget id="text-2"]
[do_widget id="text-39"]
[do_widget id="categories-3"]
[do_widget id="recent-posts-2"]
[do_widget id="archives-2"]
[do_widget id="recent-comments-2"]
[do_widget id="categories-2"]
[do_widget id="meta-2"]
[do_widget id="eu_cookie_law_widget-2"]
[do_widget id="eu_cookie_law_widget-3"]