Devon & Somerset Fire & Rescue Service has repeated warnings about the importance of working smoke alarms following the inquest into the death of a Torquay man.
An inquest held in Torquay on Wednesday 1 October found that the death of Jason Bowerman, aged 26, was accidental. The cause of the fire was undetermined due to its severity but the Coroner noted that working smoke alarms could have made a difference.
A smoke alarm on the ground floor was found not to have a battery. It could not be established whether there was a smoke alarm on the first floor as the severity of the fire prevented access to the investigators.
The Service received 25 calls to a severe fire at a property in Dunmere Road, Ellacombe, Torquay, on the morning of 9 February 2014.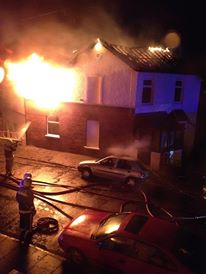 Police officers and two members of the public attempted to enter the building before firefighters wearing breathing apparatus brought Mr Bowerman outside and attempted to resuscitate him.
The severity of the fire resulted in the collapse of the roof and first floor and the building was later declared structurally unsafe.
Station Manager Andy Justice, of Devon & Somerset Fire & Rescue Service, said: "Our thoughts are with Mr Bowerman's friends and family following this tragic incident.
"Sadly this is the second coroner's inquest in a month that I have attended where a lack of working smoke alarms was found to be a contributory factor to a fatal incident.
"We would like to take this opportunity to remind people of how important it is to have working smoke alarms. It really can give people the early warning they need to escape a fire in their home."
The members of the public and police officers who attempted to save Mr Bowerman at great personal risk were awarded Chief Fire Officer's Certificates of Commendation for their actions at a ceremony in July.
Keep up to date with what's happening in the area, join us on facebook…
[do_widget "Facebook like box (jetpack)"]