(Last Updated On: July 7, 2014)
[fblike style="button_count" showfaces="false" width="450″ verb="like" font="arial"]
Been wondering what the green stars are all about? All is to be revealed on Wednesday.
We have been following the 'Green Star Man' Since the first stars appeared on the Torbay 'pineapple'. Other stars started to appear around Torbay,  including at the police station and Torbay hospital.
No one knows what the stars are in aid of yet, the Bright Green Stars facebook page gives no clues…
"Bright Green Stars for 15 days, but why the colour, why the shape and why is it in the bay?"

Head to Princess Gardens, Torquay on Wednesday and all will be revealed!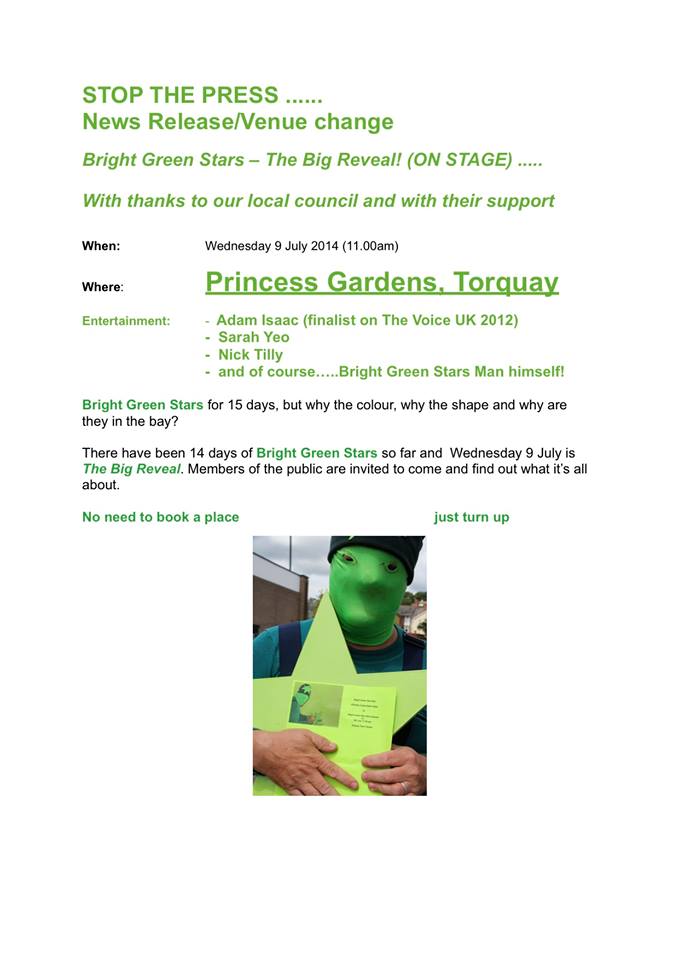 We Are South Devon will see you there!
Keep up to date with what's going on around South Devon

Error: Your Requested widget "Facebook like box (jetpack) " is not in the widget list.

[do_widget_area sanfrancisco-default-sidebar]

[do_widget id="media_image-29"]
[do_widget id="media_image-40"]
[do_widget id="media_image-38"]
[do_widget id="media_image-18"]
[do_widget id="media_image-36"]
[do_widget id="media_image-44"]
[do_widget id="media_image-43"]
[do_widget id="media_image-23"]
[do_widget id="media_image-42"]
[do_widget id="media_image-31"]
[do_widget id="media_image-28"]
[do_widget id="media_image-41"]
[do_widget id="metaslider_widget-2"]
[do_widget id="metaslider_widget-3"]

[do_widget_area widgets_for_shortcodes]
[do_widget_area wp_inactive_widgets]

[do_widget id="search-2"]
[do_widget id="search-4"]
[do_widget id="archives-11"]
[do_widget id="nav_menu-3"]
[do_widget id="archives-4"]
[do_widget id="archives-6"]
[do_widget id="text-2"]
[do_widget id="text-39"]
[do_widget id="categories-3"]
[do_widget id="recent-posts-2"]
[do_widget id="archives-2"]
[do_widget id="recent-comments-2"]
[do_widget id="categories-2"]
[do_widget id="meta-2"]
[do_widget id="eu_cookie_law_widget-2"]
[do_widget id="eu_cookie_law_widget-3"]