(Last Updated On: May 10, 2014)
[fblike style="button_count" showfaces="false" width="450″ verb="like" font="arial"]
Thousand of teenagers are currently taking part in the Ten Tors challenge on Dartmoor.
The event, which takes place every May is overseen by the army.
The event is in its 54th year.
Approximately 2,400 youngsters aged between 14 and 19 entered and are trekking up to 55 miles across Dartmoor.
They set off this morning at 7am.
There are reports that so far, more than 50 youngsters taking part in the challenge have been evacuated from Dartmoor with minor injuries.
All of the team of six are monitored by an operations room at Okehampton Camp on Dartmoor.
Alongside the Ten Tors challenge is the Jubilee challenge The Jubilee which is designed specifically for young people with special needs, both physical and educational. There are 4 routes, the longest being 15 miles.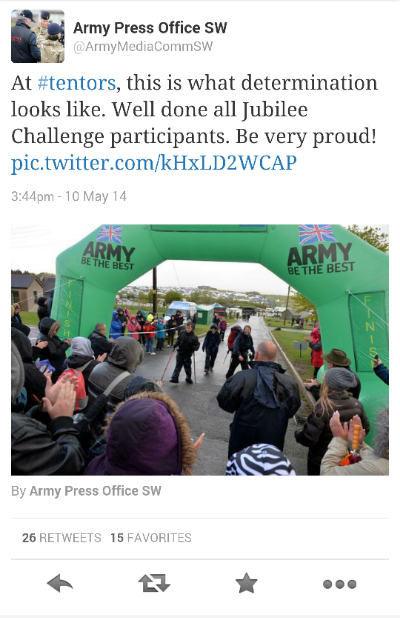 Find out more at www.tentors.org.uk
Do you have any photos that you would like us to share or if anyone that has taken part would like to write about their experience, get in touch
wearesouthdevon@gmail.com
Error: Your Requested widget "Facebook like box (jetpack) " is not in the widget list.
[do_widget_area sanfrancisco-default-sidebar]

[do_widget id="media_image-29"]
[do_widget id="media_image-40"]
[do_widget id="media_image-38"]
[do_widget id="media_image-18"]
[do_widget id="media_image-46"]
[do_widget id="media_image-47"]
[do_widget id="media_image-23"]
[do_widget id="media_image-42"]
[do_widget id="media_image-31"]
[do_widget id="media_image-28"]
[do_widget id="media_image-41"]
[do_widget id="metaslider_widget-2"]
[do_widget id="metaslider_widget-3"]

[do_widget_area widgets_for_shortcodes]
[do_widget_area wp_inactive_widgets]

[do_widget id="search-2"]
[do_widget id="search-4"]
[do_widget id="archives-11"]
[do_widget id="nav_menu-3"]
[do_widget id="archives-4"]
[do_widget id="archives-6"]
[do_widget id="text-2"]
[do_widget id="text-39"]
[do_widget id="categories-3"]
[do_widget id="recent-posts-2"]
[do_widget id="archives-2"]
[do_widget id="recent-comments-2"]
[do_widget id="categories-2"]
[do_widget id="meta-2"]
[do_widget id="eu_cookie_law_widget-2"]
[do_widget id="eu_cookie_law_widget-3"]