Hospitals across Torbay and Southern Devon have received some top ratings in a report published by the NHS Health and Social Care Information Centre.
Both Torbay and Southern Devon Health and Care NHS Trust, which runs 11 community hospitals stretching from Tavistock to Dawlish, as well as South Devon Healthcare NHS Foundation Trust, which runs Torbay Hospital, took part in the patient-led PLACE assessments.
The Department of Health and the NHS Commissioning Board recommend that all hospitals, hospices and independent treatment centres providing NHS funded care undertake an annual assessment of the quality of non-clinical services and the condition of their buildings.
The annual self- assessments, which took place earlier this year, are referred to as Patient-Led Assessments of the Care Environment (PLACE). The assessments are carried out by teams consisting of nurses, matrons, doctors, catering staff, domestic service managers, and most importantly groups of patients and service-users*. PLACE aims to review key areas from a patient perspective across a range of non-clinical services within four main categories:
·         Cleanliness of the environment
·         Food and hydration – the quality and availability of food and drinks
·         Privacy, dignity and wellbeing – how well the environment protects people's privacy, dignity and wellbeing
·         Condition, appearance and maintenance – the internal and external condition of the buildings, fixtures and fittings. How well the building meets the needs of those who use it, for example, through signage and car parking facilities.

All of the hospitals performed above the national average in most of the key assessment areas and, in addition, five community hospitals in Torbay and Southern Devon (Brixham, Dawlish, Newton Abbot, Paignton and Totnes) scored above the community national average in all four categories.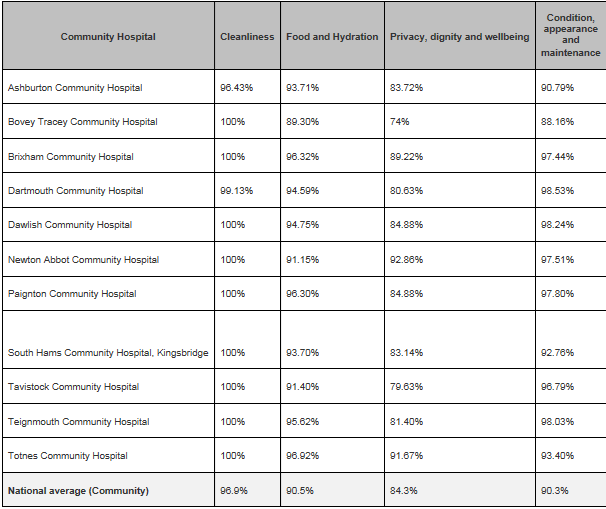 However, the assessments also identified some areas for improvement. As a result, and as part of the trusts' commitment to providing the highest quality of care, over the next 12 months minor improvement works will be carried out including:
·         Reviewing the Patient Menu Booklets to incorporate improved information and be more user-friendly
·         Redecoration of the ward of Ashburton Community Hospital
·         Replacing the gym blinds at Dawlish Community Hospital's physiotherapy area – this work has already been completed
·         Major replacement scheme of the windows of South Hams Community Hospital.
In total, 312 community hospitals and 446 acute / specialist trusts across the country took part in the assessments.
Karen Robertson, Head of Facilities for both Trusts, said: "For patients, visiting hospital can be a worrying time and environment, food and privacy and dignity are all an important part of a patient's overall experience.
"The strong results across our hospitals in Torbay and South Devon demonstrate our commitment in making the whole patient experience as comfortable as possible and ensuring we deliver the highest standard of excellence and quality of care to all those who stay in our hospitals.
"We are always grateful for the assessment results as they help us to ensure that our hospitals are the very best they can be and help us to prioritise our improvement plans. We have put together an action plan to start to undertake some minor improvement work in the areas identified in the assessments.
"I know staff at all of the hospitals will take pride in knowing the hard work and dedication they put in each day has helped achieve these results."
PLACE replaced the former Patient Environment Action Teams (PEAT) assessments. The importance of the change to PLACE is that these inspections are patient-led and offer an impartial view of each site through the eyes of a patient or service-user.