(Last Updated On: June 11, 2014)
[fblike style="button_count" showfaces="false" width="450″ verb="like" font="arial"]
Torbay Armed Forces Day will be on Saturday, 21 June 2014
Armed Forces Day (previously known as  Veterans' Day)  is an annual event celebrated in late June to commemorate the service of men and women in the British Armed Forces.
Veterans' Day was first observed in 2006. The name was changed to Armed Forces Day in 2009.
It's an opportunity to raise public awareness of the contribution made to our country by those who serve and have served in Her Majesty's Armed Forces and gives the nation an opportunity to Show Your Support for the men and women who make up the Armed Forces community.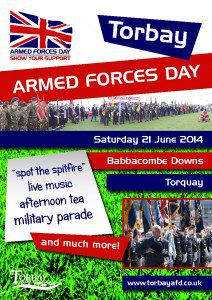 Event programme: (Subject to change)
| Time | Details |
| --- | --- |
| 10am | Event opens – information stands on display. |
| 10:00am & 11:00am | Torbay Brass performs. |
| 11:30am – 12:45pm | Steve Laister's 1940's show. |
| 12:45pm | Veterans form up for Parade (Model Village Car Park). |
| 1:00pm | The Parade, led by the Lympstone Town Band, will march out towards Chilcote Memorial, left towards Babbacombe and onto Babbacombe Downs Road. |
| Afternoon | Following the Parade there will be displays at various points from the Black Cats and Sea Fury, ending with a display featuring a Spitfire & Hurricane at 4.30pm. |
| 2:00pm | Complimentary afternoon tea for Veterans and those serving in the Forces – kindly supplied by Waitrose Plainmoor, Torquay with entertainment in the marquee from the Britannia Naval College Volunteer Band. |
| 3:00pm – 4:30pm | Steve Laister's 1940's show followed by a performance by the Lympstone Military Wives. |
Error: Your Requested widget "Facebook like box (jetpack) " is not in the widget list.
[do_widget_area sanfrancisco-default-sidebar]

[do_widget id="media_image-29"]
[do_widget id="media_image-40"]
[do_widget id="media_image-38"]
[do_widget id="media_image-18"]
[do_widget id="media_image-36"]
[do_widget id="media_image-44"]
[do_widget id="media_image-43"]
[do_widget id="media_image-23"]
[do_widget id="media_image-42"]
[do_widget id="media_image-31"]
[do_widget id="media_image-28"]
[do_widget id="media_image-41"]
[do_widget id="metaslider_widget-2"]
[do_widget id="metaslider_widget-3"]

[do_widget_area widgets_for_shortcodes]
[do_widget_area wp_inactive_widgets]

[do_widget id="search-2"]
[do_widget id="search-4"]
[do_widget id="archives-11"]
[do_widget id="nav_menu-3"]
[do_widget id="archives-4"]
[do_widget id="archives-6"]
[do_widget id="text-2"]
[do_widget id="text-39"]
[do_widget id="categories-3"]
[do_widget id="recent-posts-2"]
[do_widget id="archives-2"]
[do_widget id="recent-comments-2"]
[do_widget id="categories-2"]
[do_widget id="meta-2"]
[do_widget id="eu_cookie_law_widget-2"]
[do_widget id="eu_cookie_law_widget-3"]