(Last Updated On: June 24, 2014)
Torbay Family Butchers Ltd  opened their doors in Paignton on 12th May this year, we find out more about the family business…
The family run business is headed by Phil and Debbie Skingle and is located in the heart of Paignton in Parkside Road.
The shop is being lead by Richard (Phils brother) Richard is a highly trained butcher winning awards for his butchery skills.
He has been under close direction and guidance of their dad during his training.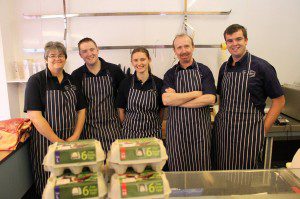 Phil told us
"As the fifth generation of our family butchers, we are very proud to be bringing back tradition to South Devon. We passionately work to bring a great service to every single customer, whether that be hotels, B&B's, regulars or holiday makers "
All Sausages and Burgers are made from scratch in store.
"We use our family recipe and 100% natural skins for our sausages. We then hand link the sausages in the shop for everyone to watch. Every day we also have a variety of homemade burgers, flavored chicken and specialist cuts of meat directly off the bone (or on)"
One of the  most popular ranges is the  Gluten-Free selection
"We always try and accommodate whatever dietary requirement you may have so always feel free to ask. If there is anything that we do not have in stock please feel to ask as we can source most varieties of meats (We also source as local as possible so your meat doesn't spend hours in transit) We look forward to seeing you in store or at your door!"
Free delivery to the local area is offered if you spend over £15.
You can contact Torbay family butchers Ltd on 01803 552177 or email office@torbayfamilybutchers.co.uk.