(Last Updated On: June 27, 2014)
[fblike style="button_count" showfaces="false" width="450″ verb="like" font="arial"]
The 'pineapple' has been found.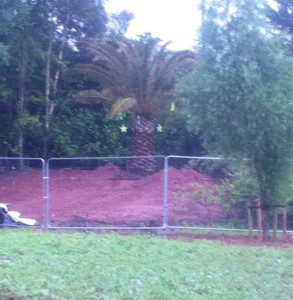 There was speculation on social media last night about where the tree was heading after it was seen on the back of a trailer.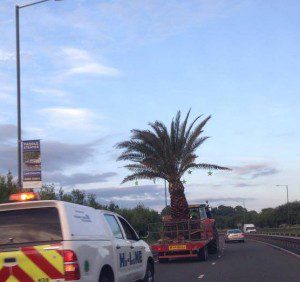 We can confirm it did not go to find spongebob, we can also confirm that the green stars are still attached.
It has temporarily been placed near the Browns Bridge junction.
The roundabout at the bottom of Hamelin way will be making way for the new Edginswell Junction, so the 'pineapple' will not be returning to its original home.
It is intended that the tree will be planted near the new junction once complete.
Someone remind us, how much did the tree, all the rubble and labour cost?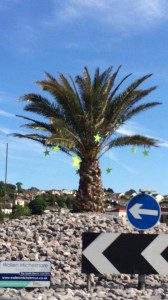 And who paid for this little 'holiday' to it's temporary home, was this factored in to the original cost?
At least it looks pretty now it's had its green star makeover.
Join us on facebook and have your say:

Error: Your Requested widget "Facebook like box (jetpack) " is not in the widget list.

[do_widget_area sanfrancisco-default-sidebar]

[do_widget id="media_image-29"]
[do_widget id="media_image-40"]
[do_widget id="media_image-38"]
[do_widget id="media_image-18"]
[do_widget id="media_image-36"]
[do_widget id="media_image-44"]
[do_widget id="media_image-43"]
[do_widget id="media_image-23"]
[do_widget id="media_image-42"]
[do_widget id="media_image-31"]
[do_widget id="media_image-28"]
[do_widget id="media_image-41"]
[do_widget id="metaslider_widget-2"]
[do_widget id="metaslider_widget-3"]

[do_widget_area widgets_for_shortcodes]
[do_widget_area wp_inactive_widgets]

[do_widget id="search-2"]
[do_widget id="search-4"]
[do_widget id="archives-11"]
[do_widget id="nav_menu-3"]
[do_widget id="archives-4"]
[do_widget id="archives-6"]
[do_widget id="text-2"]
[do_widget id="text-39"]
[do_widget id="categories-3"]
[do_widget id="recent-posts-2"]
[do_widget id="archives-2"]
[do_widget id="recent-comments-2"]
[do_widget id="categories-2"]
[do_widget id="meta-2"]
[do_widget id="eu_cookie_law_widget-2"]
[do_widget id="eu_cookie_law_widget-3"]