Update: We have just been informed that organisers have changed the time of the lantern parade. It will now be at 4.30pm and not 3.30pm as advertised.
Line up of the days event:
Union Square
Stoodley School – 12 midday
Yours in Harmony – 1pm
Cuthbert Mayne – 2pm
Ukelele Tony – 2.30pm
Paignton Community College – 3pm
Fleet Walk
11.45am to 12.15pm – Keedie
12.35pm to 1.35pm – Sarah Yeo Band
1.50pm to 2.30pm – Jay Tamkin
2.50pm to 3.50pm – Lionstar
Parade
Meet at 4.00pm Castle Circus
Marching band starts at 4.30pm
Arrive at Harbour Side at 5.00pm
Harbour
Stage show and entertainment 4.30pm to 5.15pm
SFX show from 5.15pm to 5.30pm
Event close down with Xmas music 5.30pm to 5.40pm
[Please note these times are the revised times as  listed on the Facebook events page for the lantern parade]
---
It's that time of year again, where we start to think about Christmas…
Torquay will be doing it in style this Saturday with it's 'Christmas Sparkle'
The event starts at Midday, expect street entertainers, live music, a Lantern Parade from Castle Circus at 3.30pm and a spectacular finale!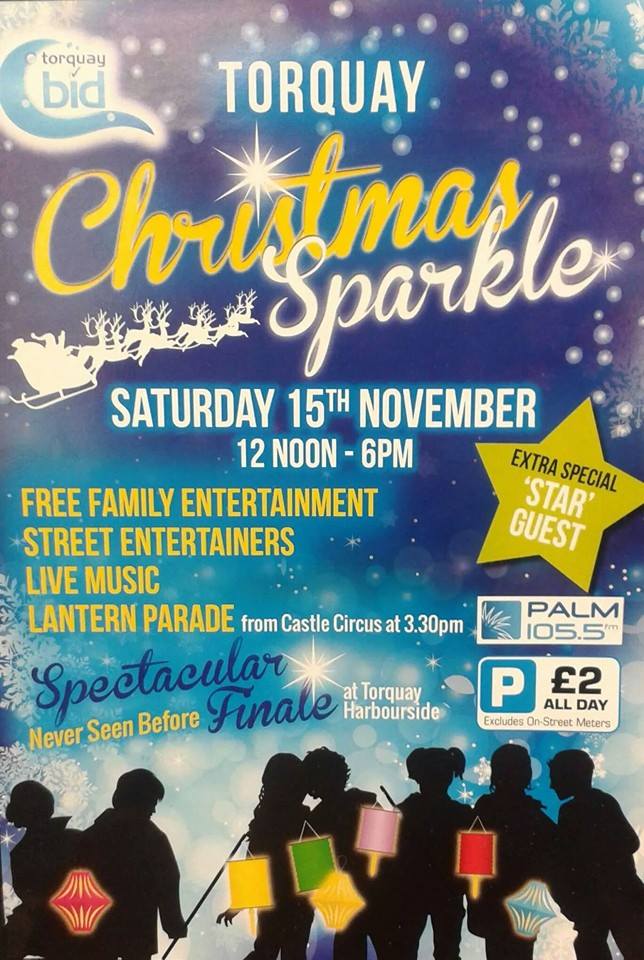 We look forward to seeing the 'Star' guest, I think they bright green star may be a bit of a give away… I think everyone knows that we are massive fans!
Parking will be £2 all day in (Torbay council) town centre car parks.
This weekend, there is also a free event at Torquay museum: https://wearesouthdevon.com/free-weekend-torquay-museum/ Perfect timing for a day out in Torquay!
Paignton's 'Light Fantastic' will be on Saturday 22nd November: https://wearesouthdevon.com/event/light-fantastic-paignton/
For more events around South Devon see: www.wearesouthdevon.com/events.
Contact us to add an event: www.wearesouthdevon.com/contact-us
http://www.southdevonlinkroad.co.uk/
For the latest news and updates from around the area, join us on Facebook.
Want to join the team? Email us: admin@wearesouthdevon.com
[do_widget "Facebook like box (jetpack)"]