Update: The boy has severe concussion and a severe swelling to his face and eye but there are no other concerns.
His family thank everyone for their concern
A schoolboy escaped serious injuries following a collision in Torquay this morning.
The year 7 Torquay academy schoolboy was taken to Torbay hospital following a collision with a van on Barton Hill Road at around 8am.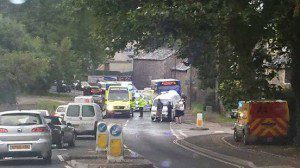 A member of the public called an ambulance and said the boy was concious and talking but in shock.
It was first thought that the boy may have had serious head injuries but has since been confirmed that he has no major injuries.
The road was closed and police remained on scene. The road reopened just before 10am.
Keep up to date with what's happening in the area, join us on facebook…
[do_widget "Facebook like box (jetpack)"]