Bright Green Star man and his family are well known in the South Devon for raising awareness about organ donation after their daughter Lottie became the youngest baby in the world to have a liver transplant.
As many readers will know, we have followed 'Green Star Man' since the first Green Stars went up in June this year.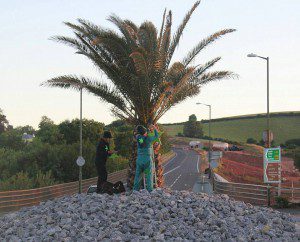 Green stars went up around Torbay this summer to highlight organ donation – The stars represented organ donors, past, present and future and their families.
Last night, they announced some tragic news.
Green Star Man's step-son Daniel passed away following a car accident at the weekend. Daniel has helped to save 6 lives by donating his organs.
To find out more about organ donation and how to register: http://www.organdonation.nhs.uk/
Our thoughts are with the family at this sad time.
[do_widget "Facebook like box (jetpack)"]