(Last Updated On: October 31, 2014)
A 15 day Trail of Stars is launching on 1st November at Pop Up Torquay (Torquay's Indie Arts & Crafts Market at the Town Hall) and will culminate on 15th November with the Christmas Sparkle, a free day of singing, dancing, live music, family entertainment and a lantern parade topped off with the switching on of the Christmas lights.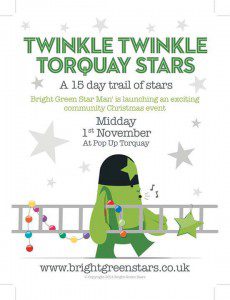 A trail of Bright Green Stars will appear throughout the Town Centre and people will be able to pick up trail forms at Pop Up Torquay and other town centre locations to then search out the stars with a letter on to make a special Christmas message and win prizes too!
Pop Up Torquay have been hosting free lantern making workshops for anyone who wants to be in the Christmas parade on the 15th – you may have seen groups of young people making glittery, vibrant willow lanterns in Wilko, McDonalds, Torre Abbey and wondered what they were for.
Organiser Sarah Bell said "It's been fantastic to see so much enthusiasm and dedication from young people, parents, community leaders and teachers who are very excited to be taking part in this community event. Each lantern represents their personalities and it's their imaginations that will light up this parade.
So far we have made almost 100 lanterns and next week we are at some of Torquay's schools working with art departments and students to create even more but there is also the opportunity to come and make one of your own this Saturday 1st November at Pop Up Torquay – we will be making between 10.00am and 3.00pm. All the materials are provided by us you just need to dedicate a bit of your time".
The 15 day Trail of Stars is part of a campaign by Torquay based Bright Green Stars to raise awareness for Organ Donor registration and their message is 'Be a Star, Be an Organ Donor'
http://www.brightgreenstars.com/
This is a Christmas event that everyone can get involved with to celebrate what's important to us individually and as a community.
For further details of how to get involved go to