A 21 Year old woman from Torquay is in hospital with serious head and chest injuries following a collision in Torquay yesterday afternoon (23 July)
The collision involving a woman and a DAF tipper truck happened at apporixmately 3.20pm on Teignmouth Road
Reports suggest that the woman was on a bicycle.
The woman was taken to Torbay hospital but it is believed that she may have later been transferred to Derriford hospital in Plymouth.
The road was closed for the rest of the afternoon/evening whilst the police serious collision unit investigated.
The road was closed to vehicles and pedestrians.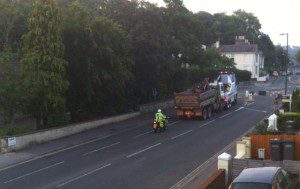 The road reopend at around 8.30pm yesterday evening.
Any witnesses to the collision are asked to contact police on 101, quoting log 547 of 23rd July.
Further update: Police have confirmed the woman is in Derriford hospital with 'life threatening injuries' https://wearesouthdevon.com/appeal-witnesses-torquay-woman-critical-condition-following-crash/
Keep up to date about what's happening around South Devon,
join us on facebook.
[do_widget "Facebook like box (jetpack)"]