Members of the controversial Westboro Baptist Church have stated that they intend to protest at actor Robin Williams' funeral branding him a 'Fag enabler' for his role in the film 'The birdcage'
The 63-year-old actor died at his home in Northern California on Monday (11 August) Read more here
The group posted on twitter (@WBCsays):
'Westboro Baptist Church Hopes To Preach In Lawful Proximity To Robin Williams' Funeral – To Warn The Living: Repent Or Likewise Perish.'
Westboro Baptist Church (WBC) announced its plans on Twitter, using the hashtags #MustPicketFuneral and #PicketFuneral.
https://twitter.com/GodH8sTheMedia/status/499346778601570304
WBC are carrying out a "God hates the media" campaign against networking sites like facebook, yet they continue to use social media tools to push out their agendas.
The Kansas based church is well known for being anti-gay and for picketing the funerals of soldiers.
The WBC pickets American military funerals because according to them the casualties of  the wars in Iraq and Afghanistan are God's punishment for America's tolerance of gays and lesbians.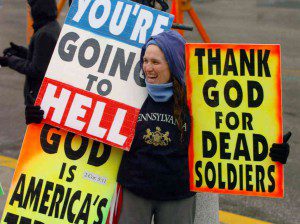 Unlike Britain, the US does not have any specific laws banning incitement to hatred.
[do_widget "Facebook like box (jetpack)"]