(Last Updated On: December 25, 2017)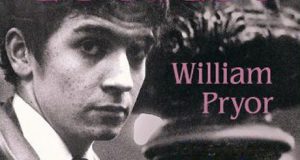 There's always been a darker side to Torquay. Away from the bright lights and the beach, the cocktails and summer shows, there's a Torquay of the underclass, the impoverished, the petty criminal, the prostitute and, of course, the alcoholic and the addict. The lifestyles of Torquay's not-so-rich and famous don't usually attract attention. When they do, it's through the criminal justice system, when housing and sanitary problems occur, or in times of riot such as in 1847, 1867, 1888 and 1972.
Occasionally however, a record of Torquay's underground and marginal communities is written and stands as a valuable record. One of these is to be found in the memoirs of author, poet and Torquay-resident William Pryor (1945- ).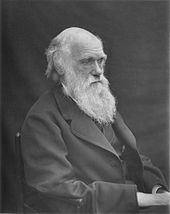 William didn't come from a poor background. His mother was the daughter of Gwen Raverat, the wood cut artist and author, whose grandfather was Charles Darwin (another Torquay visitor and pictured above). William grew up in Cambridge in the "stifling bosom" of privilege, was sent to Eton at the age of 12 – he loathed the experience – and was already a beatnik when he went to his father's college, Trinity, in 1963 to read Moral Sciences.
While studying William associated with a bohemian crowd, "including black GIs and Syd Barret (pictured above)  and David Gilmour who would found Pink Floyd" –  actually David Gilmour didn't found the Floyd but was a long time member.  He had already started "smoking West Indian dope" and other drugs. He later wrote "My first dalliance with hallucinogens was in 1962. It was addictive. It leads to what hindsight shows me clearly to be madness."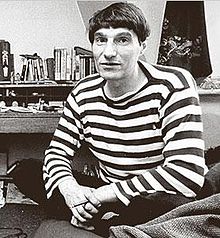 A Dadaist beat poet and part of the 60s avant-garde counterculture, William began attracting attention – he was the focus of a half-page photo in a Life Magazine article on British High Society: "Genuine Old Etonian William Pryor cannot resist the rites of the 4th of June…" The same year he took his first opium in the form of 'cooked' Dr Collis Browne's Chlorodyne. After being caught changing the quantities on a prescription for heroin and cocaine, he was fined heavily and asked to resign from Trinity College within six weeks of his finals. The story about the conviction featured on the page two of the Times. Falling under the influence "of professional junky and Britain's answer to William Burroughs, Alexander Trocchi, (pictured above)" this experimentation led to heroin addiction and William was registered with the Home Office. Addiction to heroin and his later alcoholism lasted for the next 12 years. His travels through Parisian garrets, Greek tavernas and Indian ashrams led eventually to a book shop in Torquay.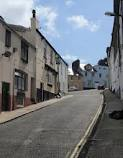 Meanwhile, in Torquay writer and poet Mike Williams was an intimate observer of the scene that William Pryor would later encounter. Mike remembers, "For a couple of years in the early '60s The Melville (now the sadly closed Clipper Inn pictured above) was home to the beatniks. Singing, guitar playing, and even the occasional poetry reading occurred, although the main attraction was cheap rough cider. As the older beatniks moved on, and the last generation appeared, the scene moved to the Rising Sun. There were never any poetry readings here. Although it was packed every night for four or five years, the scene degenerated into drunkenness and despair, reflecting that of the underground Torquay youth culture as a whole."
Back in London, in 1965 William was involved in the era-defining event 'Wholly Communion'. In May 1965 American beat poet Allen Ginsberg had arrived in the capital and offered to read anywhere for free. Plans were then made for 'the International Poetry Incarnation' at the Albert Hall, also to be known as 'Wholly Communion', on June 11, 1965 (pictured above). The event attracted an audience of 7,000 people to readings and performances from Ginsberg, along with William S Burroughs, Gregory Corso and Lawrence Ferlinghetti. The event was formative for what became the UK underground and Mike also sees the event as being important in the evolution and eventual downfall of the alternative culture in his home town of Torquay.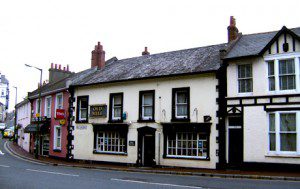 Mike writes "The end of the beatnik period can be dated absolutely: to the 'Wholly Communion' poetry gig at The Albert Hall in London in the autumn of 1965. Beatnik was dead, hippy was in, and the innocence and joy of being young (in our case in Torquay) was lost forever. The major cause of this change was the arrival and quick proliferation of drugs. Firstly hashish and amphetamines, then heroin. The arrival of heroin was to prove disastrous for the beatniks of Torquay. A terrible holocaust swept through the town (as it still does) literally killing many of us. It is a holocaust which is un-noticed and unrecorded in the social history of our country, and certainly of Torquay. It needs to be spoken of. Joy turned slowly to despair, as the incursions of drugs grew ever greater. In the end the Rising Sun (now DTs and pictured above) was raided and the scene, in its last stages, collapsed completely. Mandrex, LSD, and heroin took a greater hold. There are still 'acid casualties' walking around Torquay to this day."
It's in 1972 that William moved to Torquay and opened Cosmic Books in Castle Lane, just off Market Street (pictured above by Derek Harper). As with many other incomers he wasn't prepared for the easy accessibility of narcotics in our town, "It was devastating. I had always assumed Torquay to be sedate, prim, palm-treed and junk-free as its image would suggest." Indeed, even today you can meet people who claim to have relocated to Torquay "to get away from drugs", only to find greater availability than in the cities they have left.
During the early 1970s the heroin-dependent William further became a chronic alcoholic when Torquay's opiates temporarily became hard to access. He wrote, "There were at least six pubs within two hundred yards of my front door and the stuff was legal. Soon I was going to pubs as soon as they were open in the morning, until it struck me that it would be much more convenient and cheaper if I simply bought a few bottles to drink at home. I would have a largish tot of rum and coke before I went down to the shop in the morning to steady my nerves. Within three months of my first drinking session I was displaying the symptoms of chronic alcoholism: drinking at least a bottle of spirits a day." He was hospitalised three times, and neared death from alcohol poisoning.
In 1973 William was, "busted by local drugs squad as customer of local pushers of 'Chinese' heroin." He remembers, "There was a loud thumping at the front door. It was half past six in the morning. There was a posse of plain clothes policemen on the doorstep. Fortunately there wasn't much for them to find. A few old syringes and needles that was all."
To secure immunity from prosecution William turned Queen's Evidence. His testimony helped to secure a conviction and his suppliers went to prison. However, Torquay's dealers and their friends weren't the forgiving type. "The night after the trial Joy and I went to the nearest discotheque to celebrate the end of the trial. As we made our way home at two in the morning through an underground car park, a girl wearing shiny trousers, whose face I vaguely recognised, was leaning against one of the concrete pillars. 'That's him,' she screamed at me. Two men stepped out from behind another pillar. One of them swung his fist at me, hate contorting his face. He got me hard in the mouth, I was knocked out, flat on the ground. Joy contrived from stopping them kicking me more than once, by lying on top of me. The fist of rage had knocked out my four top front teeth clean out of my head. Joy went back to the car park the next day and found my four missing teeth which she put into a match box. The police half heartedly went through the motions of who had done it, showing us mug shots."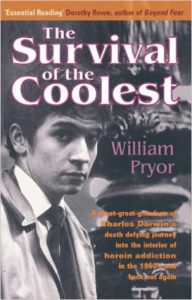 In 1975 William sold Cosmic Books and began his recovery from addiction, being one of the patients at the first American-style addiction treatment centre in Europe. This is all documented in William's 2003 memoirs 'The Survival of the Coolest.'
William then became an entrepreneur and in 2004 published the book 'Virginia Woolf & the Raverats: A Different Sort of Friendship' about the relationship between his maternal grandparents and Virginia Woolf. He has been a regular speaker at seminars and conventions, in particular at addiction conferences.
He writes, "It is not my purpose today to moralise about the use of drugs. I may have abstained from everything but coffee since 1975, but that has been an entirely pragmatic measure. Changing how I feel about the world and myself by chemical means always became an end in and of itself, a self-defeating Serpent Oroboros eating its own tail, the 'outside' act of taking the stuff becoming the inside misery. An addict is not a human, but a living myth, an acting out of a ritual of pain and its resolution, which leads to more pain and less resolution."
William (pictured above)  survived his 12 years of addiction. Many don't and this dark part of Torquay still exists. In 2013 the chairman of Torbay Council revealed that, "currently there are around 520 so-called 'problem' drug users in the Bay".