(Last Updated On: July 2, 2014)
[fblike style="button_count" showfaces="false" width="450″ verb="like" font="arial"]
Paignton Zoo Environmental Park has become the first customer in the world for a brand new green product.
The compacted foam logs are made by a Plymouth company. Manuplas, based in Estover, manufactures a range of buoyancy and protection products for the marine, offshore, renewable energy, composites and leisure markets.
Paignton Zoo Environmental Officer Peter Morgan said: "I came across Manuplas at a National Industry Symbiosis Programme sustainability workshop at Paignton Zoo. Their work generates offcuts of plastic and foam. It costs them a lot to dispose of this waste, but now they've used it to create a really useful product."
The company invested in a compactor which squashes the foam in a high pressure screw and extrudes it as a 300mm square profile. This is then cut into metre lengths.
David Hamnett, R&D Manager of Manuplas, said: "Depending on the grade of foam, the compactor can give an almost solid plastic log, or there can be small cracks and areas that are less well fused, so it isn't a structural material. But it makes an excellent outdoor decorative product, as the Zoo has shown. It is 100% polythene so is chemically inert and completely waterproof.
"It's great to see what was waste material being used for something local and worthwhile, rather than going to landfill."
Paignton Zoo, a registered charity, has experimented with the compacted foam logs in the garden outside the new invertebrate exhibit, Investigate. Peter: "The variations in texture and colour give an attractive marbling effect. We are helping to divert this material from landfill and saving a local company some money."
For Paignton Zoo's Curator of Plants and Gardens, Giles Palmer, the posts offered other advantages: "They look striking, linking nicely with the spider's web entrance to Investigate and with the feel of the place inside. We built on this with stainless wire rope intertwined between them.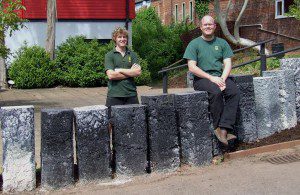 "We wanted to make a talking point landscape outside Investigate – and this certainly seems to have worked, because we are frequently asked about the posts. Also, recycled railway sleepers would have cost over £2,000, so we saved ourselves money – and these won't rot."
Paignton Zoo Environmental Park is a registered charity. For more information go to www.paigntonzoo.org.uk or ring 0844 474 2222.