(Last Updated On: July 2, 2014)
[fblike style="button_count" showfaces="false" width="450″ verb="like" font="arial"]
Three mountains in three countries in 24 hours – that's the challenge facing animal staff from two local zoos.
Keepers from zoos including Paignton Zoo Environmental Park and Newquay Zoo in Cornwall are taking on the Three Peaks Challenge in aid of wildlife conservation.
Paignton Zoo keeper Lewis Rowden and Nicole Howarth, Johanna Bellerby and Emma Sweetland, all from Newquay Zoo, are part of a team of eight hoping to raise money and awareness for Critically Endangered Sulawesi crested black macaques and for Selamatkan Yaki, a conservation project for the species run by the Whitley Wildlife Conservation Trust, the charity which operates both zoos.
All eight keepers are involved in looking after macaques in various collections belonging to the British & Irish Association of Zoos and Aquariums.
They will climb Ben Nevis in Western Scotland, which is 1,344 metres (4,409 feet) high, followed by Scafell Pike in North-Western England (978 metres, 3,209 feet). The last peak is Snowdon in North Wales, at 1,085 metres (3,560 feet). The challenge involves some 42 kilometres (26 miles) of ascent and descent, with a total distance travelled approaching 765 kilometres (475 miles). They start on Saturday 5th July.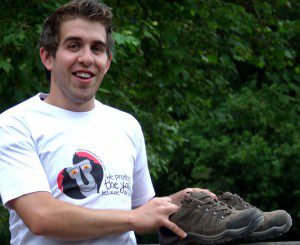 Paignton Zoo's Lewis Rowden said: "This is a really big challenge for me personally. It's unlike anything I've ever attempted before – although as zoo keepers we have a fairly physical job, I've not tested how far that level of fitness will carry me! But it's a project that I very much believe in so I'm keen to do whatever I can to help macaques." Their target is £2000 – you can support them by going to: http://bit.ly/1lKChRg
Keep up to date with whats happening in the area by joining us on facebook:

Error: Your Requested widget "Facebook like box (jetpack) " is not in the widget list.

[do_widget_area sanfrancisco-default-sidebar]

[do_widget id="media_image-29"]
[do_widget id="media_image-40"]
[do_widget id="media_image-38"]
[do_widget id="media_image-18"]
[do_widget id="media_image-36"]
[do_widget id="media_image-44"]
[do_widget id="media_image-43"]
[do_widget id="media_image-23"]
[do_widget id="media_image-42"]
[do_widget id="media_image-31"]
[do_widget id="media_image-28"]
[do_widget id="media_image-41"]
[do_widget id="metaslider_widget-2"]
[do_widget id="metaslider_widget-3"]

[do_widget_area widgets_for_shortcodes]
[do_widget_area wp_inactive_widgets]

[do_widget id="search-2"]
[do_widget id="search-4"]
[do_widget id="archives-11"]
[do_widget id="nav_menu-3"]
[do_widget id="archives-4"]
[do_widget id="archives-6"]
[do_widget id="text-2"]
[do_widget id="text-39"]
[do_widget id="categories-3"]
[do_widget id="recent-posts-2"]
[do_widget id="archives-2"]
[do_widget id="recent-comments-2"]
[do_widget id="categories-2"]
[do_widget id="meta-2"]
[do_widget id="eu_cookie_law_widget-2"]
[do_widget id="eu_cookie_law_widget-3"]