[fblike style="button_count" showfaces="false" width="450″ verb="like" font="arial"]
Paignton Zoo keepers Dave Rich and Lorraine Miller are going to New Zealand to start a new life together – along with a zoo full of animals.
The couple will be taking their experience and training to New Zealand, where they have both been offered jobs at Orana Wildlife Park, near Christchurch. And their experience of working with gorillas means that they could be part of an historic move to bring these charismatic great apes to New Zealand for the first time.
How has this come about? Dave: "We've learned a lot and done a lot at Paignton Zoo and both reached senior keeper level. We weren't looking to leave, but we were thinking about how to further our zoo careers. Then we saw these jobs come up at Orana. We applied and had Skype interviews an hour apart!"
Lorraine – known as Lainey – has taken an ape keeping position, while Dave is on hoof-stock for the time being. "But they were interested in the fact that we both have gorilla experience because Orana have been working with Taronga Zoo in Australia to bring the first gorillas ever to New Zealand. The move was delayed by the earthquake that hit Christchurch in 2011 but now it's back on again. They realised our expertise would be useful if it comes off."
Lainey: "They want to set up a bachelor group with three boys from Taronga Zoo. It's a specialist thing keeping all males, it's not like a breeding group. Paignton Zoo has a very successful bachelor group. And I know the three gorillas from when I did an exchange visit to Taronga Zoo a couple of years ago!"
Dave and Lainey met at Paignton Zoo and have been a couple for 14 months. They are both from Devon – Dave is from Exeter, Lorraine from Plymouth. What are they looking forward to most about the move?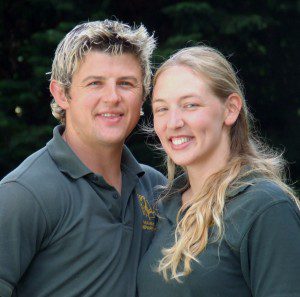 "The adventure!" says Dave. Lorraine adds: "The scenery, the country itself.  Everyone says such good things about it. The only bad thing is that we're going right into their winter! It's going to be hard to leave the people and the animals here behind."
What do friends and family think of the move? Dave: "My parents weren't happy at all to begin with!"
Their move will reinforce existing links between Paignton Zoo and these key international collections. They arrive on 28th June and start work on 29th. Each is taking seven years of training, experience and knowledge with them.
Paignton Zoo Curator of Mammals Neil Bemment said: "We will be sorry to see them go as they are both valued members of the Mammal Department team. Hopefully they will get to use the skills learned at Paignton Zoo to share best practice with our fellow conservationists on the other side of the world. We wish them well."
Paignton Zoo Environmental Park is a registered charity. For more information go to www.paigntonzoo.org.uk or ring 0844 474 2222.
[do_widget "Facebook like box (jetpack)"]