Rowcroft is urging all those who need to make or update their Will to do so during its Make a Will Week, from 15 – 19 May, and help secure the future of the hospice.
During Make a Will Week, 26 solicitors across South Devon unite to support Rowcroft, agreeing to donate 100% of the fee they'd normally charge for making or updating a Will directly to the hospice.
Rowcroft is hoping the week will raise awareness of the importance of legacy income to its funding, following its drastic funding shortfall in 2016.
Linda Pearce, Rowcroft's Make a Will Week Co-ordinator, explained: "In 2016 we experienced a significant reduction in our legacy income which resulted in the hospice having to launch an urgent fundraising appeal.
"Thanks to the incredible generosity of the local community we are now returning to financial stability but gifts left to Rowcroft in people's Wills still make up one quarter of the income Rowcroft receives every year.
"For that reason, if your Will needs to be written or updated, we'd urge you to please do so with one of our participating solicitors during Make a Will Week."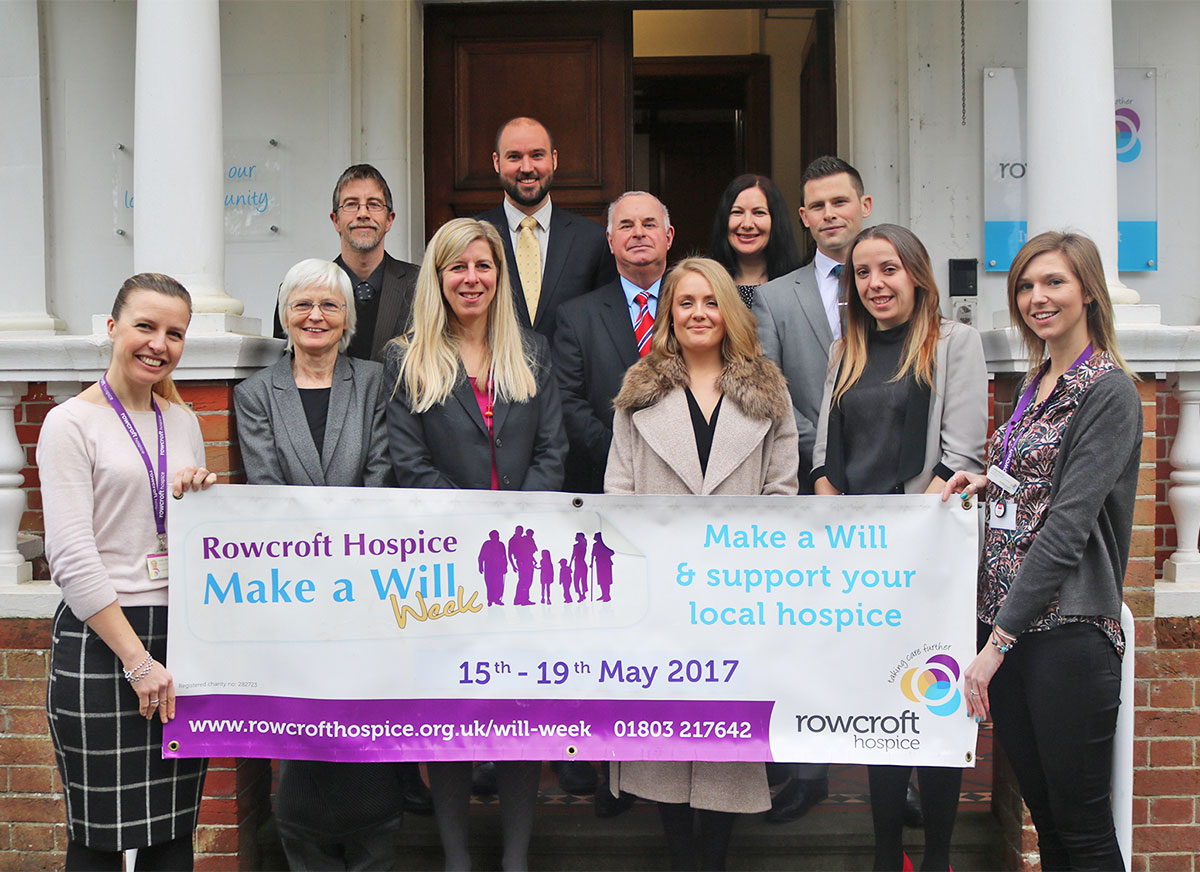 The suggested minimum donation for making or updating a Will during the week is £150 for a single Will or £200 for a pair of Mirror Wills; thanks to the generosity of the solicitors taking part, 100% of that fee is donated directly to Rowcroft.
Linda added: "Last year our Make a Will Week campaign raised an amazing £29,513 for Rowcroft."
During your appointment with a local solicitor, you'll also be given the opportunity to leave a Gift to Rowcroft in your Will.
Lorraine Bowie chose to leave a gift to Rowcroft during 2016's Make a Will Week. She explained: "My dear Aunt and Godmother, Maureen Mahoney, lost her battle to ovarian cancer 20 years ago. The love, care and compassion Rowcroft showed motivated me to support this wonderful charity and Make a Will Week was a great opportunity to help.
"With the valuable advice and support of a local solicitor, I was able to write my 'Last Will and Testament' knowing that my entire donation would go directly to the hospice.
"It's such a relief that my final wishes have been put down on paper and that I've been able to thank Rowcroft with a gift in my Will for their kindness during what was such a difficult time; please support Rowcroft today, as no one is promised tomorrow."
To take part in Make a Will Week you simply need to book an appointment with your local solicitor, mentioning Rowcroft's Make a Will Week.
At your appointment you will need to provide the information necessary to write your Will and make your donation to Rowcroft.
A full list of participating solicitors can be found on Rowcroft's website, www.rowcrofthospice.org.uk/will-week.