Torbay Coast and Countryside Trust, organisers of the annual Occombe Beer Festival, are excited to announce that next year's festival will be held on Friday 16th and Saturday 17th June.
First launched 12 years ago, the event has grown in popularity and has earned a reputation for being more than just a two day music festival on a farm in South Devon. In 2017 the Trust is promising that it will be better than ever. There will be a fantastic musical line up (details to follow soon), more exceptional local food, all your favourite beers and ciders alongside a selection of wines and Pimms.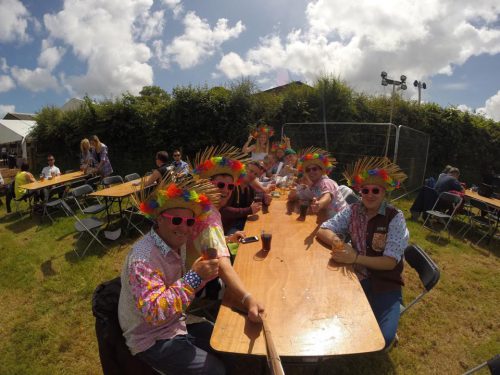 The Occombe Beer Festival is an essential fundraising event for the Trust, which cares for 1,700 acres of Torbay's natural heritage. The Trust looks after over 80% of the Bay's green spaces including Occombe Farm, Cockington Country Park and Berry Head National Nature Reserve. All the profits from the beer festival go directly to the charity and fund its work in Torbay, so this really is a good time that does good!
The 2016 Festival attracted almost 5,000 people over the weekend and raised a massive £27,000. These much needed funds contribute to the £360,000 annual cost of caring for land ranging from Maidencombe to Sharkham Point. The money raised helps us manage the land for the benefit of the community, providing places for public enjoyment and recreation and habitat for wildlife. Just collecting litter from our sites costs over £25,000 per year!
Damian Offer, director of Torbay Coast and Countryside Trust said:
"The Occombe Beer Festival is one of the highlights of our year. While it is primarily about raising funds for the Trust it also gives us an opportunity to provide our community with a fantastic fun-filled weekend of entertainment in a great atmosphere. It is hard work pulling everything together but we are already excited about the 2017 line up and will be announcing the bands and musicians very soon. Every penny of profit raised from this festival goes to the Torbay Coast and Countryside Trust, the unique conservation charity dedicated to caring for Torbay's heritage.
This is indeed all about good times that do good! "
Information about the festival can be found on the trust website or by emailing info@countryside-trust.org.uk