A conservationist from a Devon charity has made a crucial discovery in the rainforests of East Africa. She has discovered a new population of a rare species of toad previously only found in a single patch of forest less than half the size of a football pitch.
Elena Tonelli is a PhD student from Manchester Metropolitan University working for the Whitley Wildlife Conservation Trust in the Uzungwa Scarp Nature Reserve in Tanzania. The Whitley Wildlife Conservation Trust is the charity that runs Paignton Zoo Environmental Park, Living Coasts in Torquay and Newquay Zoo in Cornwall.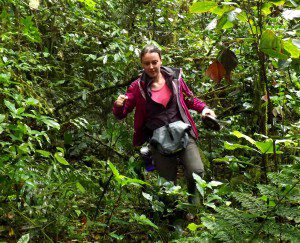 Elena has found Wendy's forest toads at a new site over 20 kilometres from their only previously recorded location. Wendy's forest toad, Nectophrynoides wendyae, is a species of toad endemic to a single forest in Tanzania and listed as Critically Endangered due to its restricted range and ongoing deforestation.
Elena reported from the field: "We found dozens of adult wendyae at the new site in a remote part of the nature reserve, including juveniles which we believe have never been photographed before!
"It was a great way to celebrate the New Year after enduring such tough field conditions. You expect to get wet camping in the rainy season, but we had such torrential rain one night that the river rose and cut us off on a little island."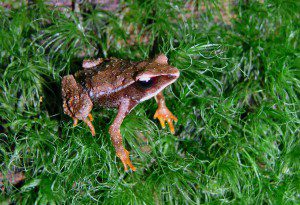 Intriguingly, the newly-discovered toads look slightly different from the only other known population, with distinctive yellow feet. It's hoped that further research will reveal how closely related the two populations are genetically.
Anyone interested in finding out more should visit the project's Facebook page
https://www.facebook.com/CHURAproject/
Whitley Wildlife Conservation Trust Conservation Programmes Manager Dr Andy Bowkett: "We hope Elena's PhD research will help us understand why this part of the Udzungwa Mountains has such an unusual amphibian community and what can be done to conserve it. This is a rare opportunity for amphibian research to directly influence the management plan for a conservation area due to the forest recently being designated as a Nature Reserve."
Her work is part-funded by Paignton Zoo visitors and supporters and carried out with the charity's partners Manchester Metropolitan University and Museo delle Scienze, Trento, Italy.
Mike Bungard, Curator of Lower Vertebrates and Invertebrates at Paignton Zoo Environmental Park: "It is great to receive good news about a Critically Endangered species. To discover that the toad's range is larger than previously thought is a real boost to its chances of survival."
Elena Tonelli is a student in Professor Stuart Marsden's conservation research group in the School of Science and the Environment, Manchester Metropolitan University. Paignton Zoo Environmental Park is a registered charity.
For more information go to www.paigntonzoo.org.uk or ring 01803 697500.