Beverley Holidays and its sister park Whitehill Country Park have been awarded the prestigious Gold award from the David Bellamy Conservation Scheme for 2015/16.
The Paignton-based holiday parks were awarded the green accolade in recognition of their continued commitment to protecting and enhancing the natural environment.
Described by Professor Bellamy as the "Green Olympics" for holiday parks, the awards put the parks amongst an elite group of tourism businesses in the UK dedicated to conservation.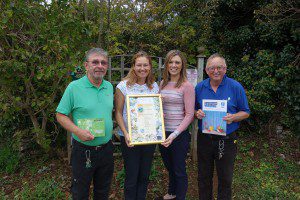 Beverley Holidays Marketing Director Claire Jeavons said: "We are thrilled to have retained the Gold award for yet another year for Beverley Holidays and Whitehill Country Park.
"Ensuring that we retain the natural beauty found on our doorstep here in Devon is hugely important to us and our guests, and we are delighted that our conservation efforts have been recognised once again by the David Bellamy Scheme."
Offering memorable holidays in the heart of the English Riviera, the parks boast a wealth of environmentally-friendly features including bird boxes, nature trails and a hedgehog hotel.
This year also saw the holiday parks take part in David Bellamy's Honey Bee Friendly Park Project by introducing bee-friendly measures aimed at safeguarding the great British bee.
As part of the Honey Bee Pledge, Bee B&Bs have been installed at both parks, providing the perfect retreat for visiting winged friends, plus more pollen-rich plants such as lavender.
These green initiatives, together with the tireless work of the park's 'Environmental Leaders' in maintaining the vast flora and fauna, were praised by judges during a visit this year.
Professor David Bellamy said: ""Many parks like this have created wildlife wonderlands, and I think it's time they were given deserved recognition for their big commitment."