It's a charity shop, but there are no racks of old clothes and dog-eared paperbacks here. Instead there are games, collectibles, cuddly snakes – andIndonesian friendship bracelets.
The Living World shop at Paignton Zoo Environmental Park has just been refreshed, refurbished and rearranged to make it more open and more child-friendly. The shop, which opened in 1995, has a floor area of 205 square metres and carries over 2,700 product lines. It employs 7 permanent full-time and part-time staff and up to 20 in the busy summer season.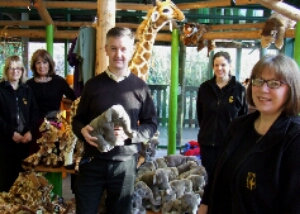 Around 500,000 Zoo visitors pass through every year; crucially, Living World donates a third of a million pounds in profit direct to charity each year. This is because Paignton Zoo is part of the Whitley Wildlife Conservation Trust, the charity which also runs Living Coasts and Newquay Zoo in Cornwall, and which funds conservation work in the UK and overseas.
Paul Bellingham, Merchandising Manager for the charity's trading arm, South West Zoo Enterprises Ltd., explains the changes: "We have de-cluttered the space. There are fewer lines so products can be displayed in volume and in a more contemporary way. There's a lighter, airier feel. We've dismantled the old Fair Trade craft hut and mixed crafts and ethical goods through our whole shop.We hope this will allow visitors to disperse into the shop as they leave the Zoo and not just funnel straight through."
There's also been a considerable injection of colour, with upright wooden poles painted in green, orange and red. Pauljokes: "The new colour scheme was inspired by a plush snake we sell in the shop!"
The shop – not surprisingly – sells thousands of cuddly animals, along with animal stickers, animal T-shirts and the usual tourist attraction souvenirs. It will also be selling collectible resin models of some of the life size rhino figures to be sited around Exeter and Torbay as part of The Great Big Rhino Project. But it alsooffers one of the largest collections of Fair Trade and ethical gifts in the entire country. Torbay is a Fair Trade borough and Paignton Zoo is Torbay's flagship employer, having participated in the fair trade steering group from the start. Paul:
"Our Fairer World brand offers quality merchandise produced sustainably by small community enterprises across the developing world. It supports communities, encourages traditional or developing crafts and helps reduce the impact of those communities on wildlife and the environment. Every purchase in the Living World shop helps wildlife conservation."
Staff hope Fairer World products will be more accessible to visitors now that they have been brought out of their shop-within-a-shop and mixed among the toys and souvenirs. And those Indonesian friendship bracelets? "They are handmade in Bali by small, family-run workshops."
The Living World gift shop is open 7 days a week to visitors and non-visitors and there's free parking. Paignton Zoo Environmental Park is a registered charity. For more information go towww.paigntonzoo.org.uk or ring 01803 697500.