It's the year 2045 and here's 'Welcome to Torbaymageddon' – the first tourism guide offering information on Torbay's cultural and historical heritage since those 37 minutes of nuclear exchanges that constituted the Third World War.
The Mayans said that the world would end in 2012 and a lot of folk took them seriously. But then the Mayans made other mistakes – like saying to visiting Spanish tourists things like, "Yes. We do have lots of gold and… No, we don't have a lot of weaponry other than these spears".
But, to be fair, they weren't entirely wrong. They were just out by a couple of decades – not bad after a thousand years, I suppose. And, as we all know, someone in Washington and someone in Moscow did finally push those red buttons, even though they had promised that they never would.
And that's what this is about. It's a bit of a look at our three towns of the Bay – or what's left of them after the Apocalypse. A sort of tourist guide to Torbaymageddon 2045 for anyone that may still be out there in our irradiated England.
Admittedly, those A380 crucifixions may have put some potential visitors off – though in the early days we didn't have much choice. We had to be "Tough on crime and tough on the causes of crime, and anyone who looked a bit dodgy from north of Kingskerswell".  But now we're back as "After-Armageddon England's Premier Resort"!
First of all, some things haven't altered that much. Torquay Marina is still full of yachts, though they don't go anywhere, and we live in distinct tribes which often view each other with suspicion – so no change there then.
Local government carries on much the same as before as all that money spent on the fallout shelter underneath the Town Hall finally paid off. Most of the councillors survived and emerged a couple of years post the Big One. After a brief skirmish with the Factory Rowdies, who had built their shanty town at Castle Circus – over the last existing can of Polish super strength lager – the Council just resumed their weekly meetings and carried on passing motions. No-one takes much notice, but it keeps them happy.
As there aren't prisons any more, we had to do something about criminal justice. Fortunately, we remembered that we still had the old Gallows Gate site up there on the ring road. And it didn't take long to set up a very impressive gibbet made from bits of the Big Wheel. So each month we have public hangings for those of us who don't follow the post-Doomsday rules. For instance, only this week we had the execution of a chap from Watcombe who hadn't put out his recycling in the right piles. I know rubbish never gets collected but that's not the point – it's just so important to keep up standards. No one can ever say that Torbay doesn't have any 'fun-for-all-the-family' days out!
It's odd how radiation seems to have sense of irony. We knew that the use of alcohol helped the body's resistance, but the Third World War began and was over before anyone had the chance to really prepare – indeed, most Wetherspoon's regulars barely looked up when the missiles hit Exeter and Plymouth. It was that alcohol-infused resistance that ensured that the guys at Castle Circus survived the initial air bursts… and why the Livermead joggers didn't. You can still see bits of tattered Lycra near the ruins of the Grand Hotel.
Radiation can cause mutations in living things. Now that does have its downside, of course. Body parts can change and even drop off – sometimes at the most embarrassing moments. But let's not dwell on that. We've got used to it, though we did have a bit of an issue a few years ago about how we see our mutant community. Most of us wanted to help – by collecting lost fleshy bits and returning them to their owners – but there are always some that take advantage. To sort out the real mutants from those who were just wearing gloves with an extra finger, a local man went down to the harbour and did a series of quick sketches which he then handed out. That way we could all tell who to be nice to.
On a more positive note, the seagulls have evolved. They're much larger but far less aggressive… in fact, they're positively friendly now, a bit like feathery puppies, and have lost that angry look. They also, for some reason, now seem to have a real enthusiasm for tidying the place up and putting litter into neat piles. Several of them have grown beaks that look like they're smiling all the time. And they're all different colours too… purple, green, red and blue. On the other hand, the Victoria Park ducks are positively homicidal.
Living Coasts' penguins just got a bit larger and a lot more aggressive. One day they wobbled out of their pond, clawed their way through the net and dived off Beacon Quay. They're still out there and occasionally come ashore. But there's nothing cute anymore about a seven foot tall permanently sexually aroused penguin heading in your direction.
Food is admittedly a bit of an issue, but not as much as you would think. The new types of seaweed are surprisingly edible though some have evolved the ability to bite back. And there's always the 24 hour carvery out at the Willows – though it's best not enquire about where the "chicken substitute" comes from.
After a century of decline, religion is back in a big way, with new orders springing up all the time. In some ways it's like we've gone back to a medieval Bay. For example, do visit Torre Abbey's Casino run by the white-robed Neo-abbots, but be aware that they do have filthy habits – see what I did there?
On the other hand – if you still have one – the Preston New Evangelists can be a bit irritating with their "We told you this would happen" posters on pretty much every still-standing wall.
Of course, the internet is only a distant memory since electricity is such a valuable commodity. Local news is now spread by town criers, just like it was for a thousand years. So, each week there's a town crier on the Strand announcing news items such as:
"Mobile phone left in back of cart – it doesn't work, but has sentimental value"
"Paignton's oldest man remembers when cars would park on the pavement and you couldn't even get a pram past"
"Found: silver earring in the shape of a sea shell, with ear attached"
"Torwood Street redevelopment almost complete"
"Oldway Mansion saved – mutant dogs to be removed"
"Parking Charges increased to £40 an hour"
(Those last three announcements were from the Council – it makes them feel loved.)
Now for some great news. The FA Cup is back and we won it – the Emirates were the first to go when the buttons were pushed. As urban areas were primary targets in the War, most of the Premier League teams were sadly dissolved (in a literal sense).
After a year or two, the Tufoc tribe sent out a looped radio message inviting all comers to the FA Cup Final at Plainmoor but no-one showed up, so Torquay won by default. The next goal is the World Cup, again to be held in Plainmoor. Yet, shortly after the invitation had been sent out and just when things were looking so promising, we heard a distant barely-audible radio message from the Falklands. Now the odds on us winning have changed dramatically. Never mind…"70 years of hurt…"
And the old Tufoc-Argil rivalry continues. You can still hear the old joke about Argil folk eating each other… even before the food ran out!
So we certainly haven't forgotten how to have fun, even in post-apocalyptic Torbay!
We still have all those tourist-friendly festivals that we used to. The Torbay Air Show is still going. There aren't any planes any more, of course. However, this year there were several balloons and a kite, along with a very enthusiastic gentleman called Barry from Winner Street who jumped off the Pier with homemade papier-mâché Spitfire wings tied to his back. And BeMad carries on where we all push prams and bicycles along the Esplanade while we make growling noises. Brixham's Pirate Festival is now a 356 day event – though they've taken it a bit literally in my opinion and, along with the penguins, another good reason not to go sailing. On a more positive note, those of us who have body parts missing can just say, "I'm off to Brixham, me hearties" and raise a laugh.
As more proof of Torbay's post-Armageddon recovery, the Torbay Picture House in Paignton reopened this week with daily showings of old Mad Max movies – something we can all aspire to. Next week it's the Jurassic Park series. This choice was to try and discourage people from visiting Cockington where the fallout has really caused some interesting developments. Fortunately, the well-armed People's Republic of Chelston usually keep the scaly beasties from leaving the valley.
So, do visit us down here in 'The Riviera'. We used to be called the English Riviera – but that was before St Tropez received a direct hit. Now we're the only one!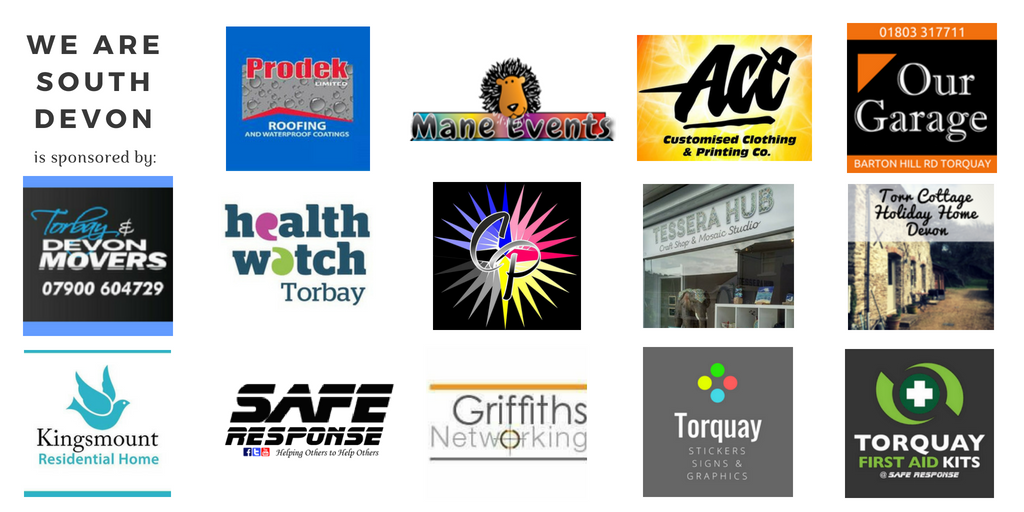 You can join us on our social media pages, follow us on Facebook or Twitter and keep up to date with whats going on in South Devon.
Got a news story, blog or press release that you'd like to share or want to advertise with us? Contact us