Restoration work in Cockington Country Park is underway and local charity Torbay Coast and Countryside Trust are thanking their lucky stars for help from a local gardening business and volunteers from the local community getting stuck in to help.
The volunteers have been hard at work clearing plants, bushes and scrub that had swamped the ornamental landscaping around The Lakes area of the popular Torbay park. The work is being carried out as part of the Green Heart Project, which will see this special and historic area returned to its former glory thanks to funding from the Heritage Lottery Fund, Viridor and Torbay Council, as well as money raised by the Trust from community events and activities.
Many local people have been supporting the project by donating their time rather than money, volunteering once or twice a week in the park to help with practical tasks and local gardening company Willow Garden Services kindly offered their services too.
"As a company we have always been focused on local area and pride ourselves on being environmentally aware in everything that we do," said Matt Evans, who runs Willow Garden Services. "We firmly believe in giving back to the environment around us and working with Torbay Coast and Countryside Trust allows us to both help a valuable organisation while also allowing the staff to benefit from learning about their local conservation charity and working together."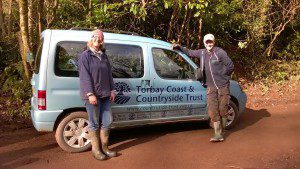 The Trust's Green Heart Project Officer, Hannah Worthington said "It's fantastic to have companies like Willow Garden Services involved with the Cockington Green Heart Project. All our volunteers make such a difference to the work the Trust is able to do and we cannot thank them enough".
Volunteer days are held each Thursday in Cockington Country Park. As a Trust volunteer, you will have training opportunities, your travel costs can be refunded and any equipment and clothing that you need can be provided. You will need to register as a volunteer before starting.
If you would like to get involved in what's going on in Cockington Country Park by becoming a volunteer please contact Hannah Worthington on 01803 696247 or email greenheart@countryside-trust.org.uk. You can also visit the Trust's website for more information www.countryside-trust.org.uk