Devon's LEMONFEST is pleased to reveal the details of the next addition of acts to its dynamic 2016 line up. It confirms a rock n roll giant as its main stage headliner, a Radio 1/1Xtra/BBC 6Music critically acclaimed reggae star, as well as welcoming back a local legend and securing an array of fresh D&B acts to its renowned drum n bass tent.
LEMONFEST has a great story, and as we enter its seventh successful year, it celebrates running off the back of its own success. It's never received any funding and was the dream and brainchild of two old school friends. The only beer, cider and food on sale at the festival is locally brewed and produced, along with famous local restaurants making an appearance on site every year without fail. This gives the festival a great community vibe and over the years has gained the attention of well-respected regional and national publications.
The festival attracts thousands of music lovers each year and welcomes adults of all ages through its gates. It's even attractive for those parents with young children who can join in on all the fun and games available on site.
The next 2016 LEMONFEST act additions are..
ALABAMA 3
The Guardian has called them "the best live band in the country" and 2016 sees Alabama 3 bringing their sweet country house music to Devon.
KIKO BUN
Kiko Bun adds LEMONFEST to his packed summer of festival slots includingLovebox, Notting Hill Carnival and Bestival. Last year's release 'Sticky Situation' sparked an extraordinary level of online interest, swiftly resulting in Kiko's signing to Island Records.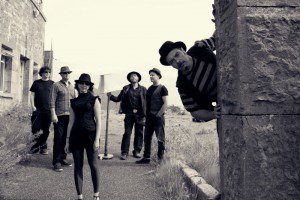 MAD DOG MCREA
Mad Dog Mcrea blend a unique mixture of folk rock, pop, gypsy jazz, bluegrass and 'shake your ass' music. From self-penned songs of adventure, drinking, love and life, to traditional songs of gypsies, fairies, legless pirates and black flies – Mad Dog never fail to capture their audience with their infectious songs.
D&B line up additions includes CYANTIFIC, MAJISTRATE and FRANKEE with more to be announced very soon.
"We're excited to add a headliner of Alabama 3's calibre to an already stellar line-up. We're also expanding our Dance Arena this year to hold nearly 1,000 people on it's own, so it's going to be one hell of a party. We can't wait to give you more news in the next few weeks" – Matt Freemantle, LemonFest organiser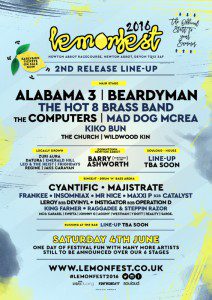 LEMONFEST is a one-day music festival taking place in the heart of Devon at Newton Abbot's Racecourse every summer, with live music and DJ's across six stages. Now moving into their seventh year, LEMONFEST has established itself as South Devon's premier live music event.
This year's festival will be held on the 4th June and promises to be their best year yet. With previous years welcoming the likes of BRIT award winner Ben Howard, alternative pop rock trio The Subways and reggae greats Gentleman's Dub Club, 2016's line up is sure to have tickets flying out the door.
For more enquiries visit the links below. Tickets for 2016 are on sale now and are available via the festival's official website. (Early bird general admission £20.00, early bird general admission & camping £30.00) www.lemonfest.co.uk