Is he the toughest boss ever? Contractors working at Paignton Zoo Environmental Park in Devon are being watched over – by a gorilla.
Twelve year old, 176 kilo Western lowland gorilla N'Dowe loves to keep an eye on things and regularly displays at the builders from his island home. The workers, from Torbay building firm Lee & Lee, are building the new Hangout play area and takeaway kiosk for the Zoo, which is a registered charity.
Company boss Adrian Lee said: "It's a bit unnerving, being watched by a gorilla, but the lads are taking it all in their stride!" His team even took time out from the job to do some macho chest-beating of their own.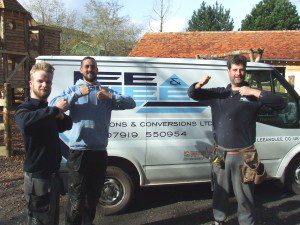 Paignton Zoo volunteer photographer Ray Wiltshire, who took the pictures, said: "In the afternoon N'Dowe goes over and watches the builders working, he loves it. He will sit quietly taking it all in for a while – then he goes into his display!"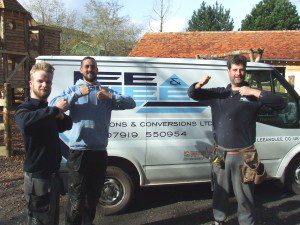 The charity's bachelor group of Western lowland gorillas – a Critically Endangered species – plays a vital role in international gorilla conservation, providing somewhere for young males to grow up in a social environment. Some may move on to be the dominant males in bachelor or family groups in other collections as part of the European breeding programme. Paignton Zoo Environmental Park is a registered charity. For more information go to www.paigntonzoo.org.uk or ring 01803 697500.