On 12 April, Jared Colclough and Richard Smith returned to Exmouth lifeboat station, one year after volunteers saved their lives following the sinking of their powerboat.
It was a year since their powerboat ran out of fuel and started taking on water near Straight Point. In the short time it took Shannon class lifeboat R and J Welburn to arrive on scene, the group of four young men were all in the water with only one lifejacket between them. Their body temperatures had dropped rapidly, especially Jared's 12 year-old cousin, Dan who was treated immediately by Paramedics.
Jared, a taxi driver from Taunton carries an RNLI collection box in his cab and is happy to tell passengers his story. Donations over the year amassed to £170.21, which he handed over to a selection of station volunteers who played a part in the rescue.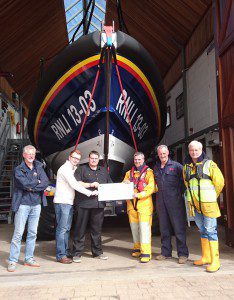 Jared tells how the rescue has transformed his life:
'I've learnt that it's important to prepare for every eventuality and never to assume everything's always going to run smoothly at sea. I'm determined to improve my training and aim to do as many courses as I can, so I don't make the same mistakes again. Having been in this situation, I have the experience and knowledge to pass on to others. As a Sea Cadet Instructor, I can give my cadets a first-hand explanation of why wearing lifejackets at sea is essential. Now I'm a second mate on board a charity's sailing boat and now used to everyone taking the mickey out of me!'
Jared, his friends and family hope to continue fundraising for the charity that saves lives at sea, in the Taunton area. He is currently painting a campervan in lifeboat colours and aims to help spread the charity's safety messages and Respect the Water campaign at shows throughout the summer.