The wait is over – The Great Big Rhino Trail has gone live! A dazzling free public art trail of 40 life-size painted rhinos now runs through the streets, parks and open spaces of Exeter and the English Riviera.
Organiser Pippa Craddock explained: "People can pick up a free map and get out and about to find the rhinos, or they can go hi-tech and use the website, www.greatbigrhinos.org.uk – to log them. If you can find them all you'll be in with a chance of winning a prize!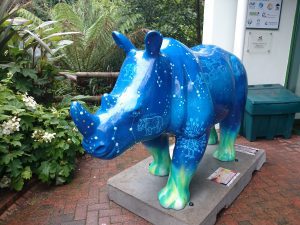 "Each rhino is different – you have to see them all before you can decide which one is your favourite. There are superheroes, landscapes, fun characters and some with serious messages.
"It's going to be a rhino summer. There are life-size adult rhinos, medium-size juvenile rhinos and small collectible ceramic rhinos. There are rhinos created by schools and community groups and rhinos painted by professional artists. There's a complete trail in miniature at Babbacombe Model Village. There's an edible chocolate rhino, a cuddly soft toy rhino, a hi-tech social media rhino and a rhino that lights up at night!"
The Great Big Rhino Project has been organised by Paignton Zoo Environmental Park in aid of Critically Endangered wild rhinos. After the trail ends there will be a grand charity auction at which rhinos will be sold off to raise funds.
Pippa: "Ultimately, it's about raising money to help Javan and Sumatran rhinos – we're channelling it through Save the Rhino International to make sure it is well-spent."
"I really hope that thousands of people will get out and enjoy this free spectacle. This is all about celebration, conservation and collaboration. A lot of people have got involved to make sure it's a success. The Great Big Rhino Trail celebrates creativity, boosts civic pride, stimulates the local economy and creates a 10-week free fun event for families."
For more local news and info, go to our home page or you can join us over on Facebook or Twitter.