An extraordinary collaboration between Devon-based scientists, designers and conservationists has created a striking hi-tech artwork highlighting the plight of one of the most endangered large mammals in the world.
The three-dimensional infographic, based on a fibre-glass model rhino, is an offshoot of The Great Big Rhino Project, which is using a huge free art trail of 40 life-size painted rhinos to link people with rhino conservation.
Specialists from Paignton Zoo Environmental Park, the Met Office Informatics Lab, the University of Exeter, Kaleider, Bigwave Media and ESW Solutions, as well as freelance software developers and students have contributed ideas, inspiration and knowledge. This dazzling and poignant artwork uses a medium-size rhino figure, data on wild population numbers and some very clever computing.
One side of the fibre glass rhino has been studded with over 1,000 LED lights which can change colour and act like pixels to show images and words. TechnoRhino, as he's been dubbed, has been programmed with a number of pre-set animations that can be activated by Twitter or by using an accompanying iPad controller, which also lets you control the LED colour using sliders.
Ross Middleham, Design Lead at the Met Office, explained: "If you Tweet @GreatBigRhinos #TechoRhino and then the pattern hashtag – for example, #rainbow, #rainfall, #disco or #rhinonumbers – you can change what's on the rhino. There's even an Olympic link – and a number of hidden hashtag animations waiting to be found!
"We've brought together lots of different people and stepped into the unknown, using the latest technology. We've been sharing ideas, technical skills and data to produce something quite new and special for the wider public. Collaboration has been the key!"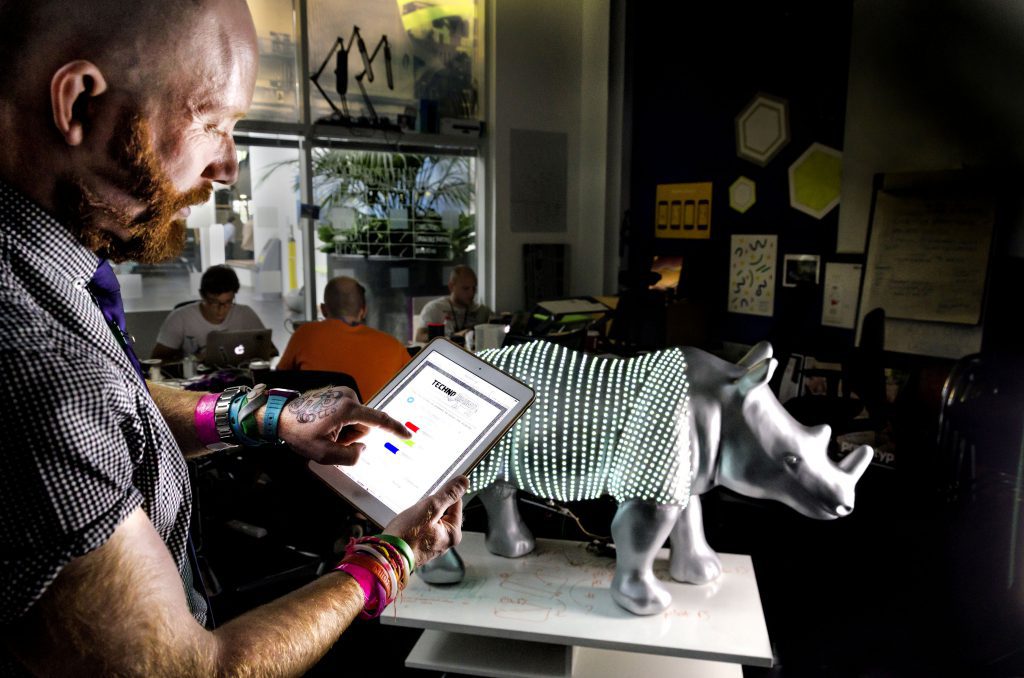 TechnoRhino will be on public display at different locations. It will be at Kaleider (a studio in Exeter promoting creativity and collaboration) on Friday 19th August and the Royal Albert Memorial Museum on Friday 26th August. Other locations are being arranged.
Ross: "The aim of TechnoRhino is to take a different approach to The Great Big Rhino Project – to mix art and tech, to share and learn across disciplines, to challenge ourselves with a project with an unknown outcome. It also supports our STEM work – a large portion of the work has been carried out by work experience and summer placement students."
And there's a joke here that unites computer geeks and rhino conservationists – 95% of the computing has been done in the Java-script programming language. The Javan rhino is one of the species that will benefit from The Great Big Rhino Project.
Pippa Craddock, from Paignton Zoo, said: "One thing we want The Great Big Rhino Project to do is showcase the wealth of creativity in our area – and this is an incredible result!" The Javan rhino (Rhinoceros sondaicus) could be down to a population of about 60 individuals, all on the Indonesian island of Java. It is the least researched and least understood of the rhino species.
There are 40 life-size painted rhino figures on The Great Big Rhino Trail, which leads around the streets, parks and open spaces of Exeter and the English Riviera. Free trail maps help people to find the beautiful beasts. Money raised when the rhinos are auctioned in November will be channelled through Save the Rhino International to help Javan and Sumatran rhinos.
Twitter @Greatbigrhinos, hashtag #greatbigrhinos, #technorhino
For more local news and info, go to our home page or you can join us over on Facebook or Twitter.