A Torbay Hospital consultant cardiologist has been recognised nationally for his outstanding clinical research leadership in the NHS. Dr Phil Keeling, of Torbay and South Devon NHS Foundation Trust, was named as the winner of the Consultant award category for clinical research leadership in the NHS.
The National Institute for Health Research (NIHR) Clinical Research Network announced the winners of the research awards which is run in partnership with the Royal College of Physicians (the College). The awards recognise the outstanding contributions of NHS consultants and trainees who are active in research.
Dr Keeling was appointed in 1996 as a cardiologist at Torbay Hospital where he established a cardiovascular clinical trials unit. To date over 1,100 patients have been recruited into 50 clinical trials by the hospital and Dr Keeling was the Principal Investigator for 41 of those studies. In 2015-2016 Torbay enrolled 169 people into 15 studies.
Applicants were required to outline their contribution to the leadership of several NIHR Clinical Research Network Portfolio studies with a particular focus on:
– how they demonstrate clinical leadership enabling their organisation to increase its participation in clinical studies
– how they engaged with patients to inform them of new opportunities to participate in clinical research
– their contribution to successful delivery of clinical research studies, with a particular emphasis on industry (commercial contract) studies.
Applicants also had to set out how they would use the prize money to increase their contribution to NIHR Clinical Research Network Portfolio studies in the future.
Dr Phil Keeling, said: "My principal aims have been to conduct research as an integral part of the clinical care of the patient during their time in hospital and subsequent follow up. Key to achieving this was the involvement of all medical and nursing staff in coronary care, the cardiology ward and outpatient department at Torbay Hospital."
Dr Keeling added: "We wanted to make research available to all cardiology patients by conducting trials into a broad range of disease conditions. Given the proven benefits of research I was convinced that participation in clinical trials should be a right available to all patients across the South West."
Over the last nine years also working as the cardiovascular specialty research lead for the South West Clinical Research Network, Dr Keeling has successfully encouraged all hospitals to be research active and promoted collaboration with GP practices to support recruitment of patients to studies. He has produced a patient information film about a study which is used nationally; adopted social media to promote patient recruitment and developed networks for clinicians and research nurses to support the introduction and delivery of clinical trials.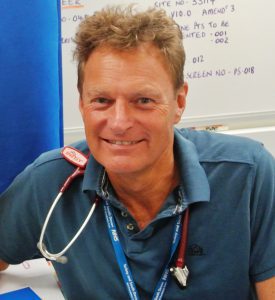 Dr Keeling says he will use the award funding he has received to develop a bespoke Facebook resource promoting opportunities for participation in cardiology research studies.
Mairead McAlinden, Chief Executive for Torbay and South Devon NHS Foundation Trust, added: "This national award is testament to the hard work and dedication of Dr Phil Keeling and his team and I would like to extend my sincere congratulations. The award reflects the fantastic work being undertaken for our cardiology patients and we hope that the clinical trials will pave the way for further advances in their treatment and care in the future."
Further information about the National Institute for Health Research can be found via: www.crn.nihr.ac.uk
For more local news and info, go to our home page or you can join us over on Facebook or Twitter.