Plastic Surgeon has carried out a final round of fundraising for Paignton Zoo's Great Big Rhino Project, managing to raise £1,004 through an in-house auction.
The nationally based specialist surface repair company, which has its headquarters in Bovey Tracey, carried out an in-house auction amongst its staff, selling items to the highest bidder.
The auction took place at a pub local to the Plastic Surgeon head office, and saw a real mix of items, ranging from hand knitted, handmade rhinos donated by employees' family members, to rugby tickets, sign writing and hampers, donated by Plastic Surgeon's clients.
Cathy Baillie, Marketing Manager at Plastic Surgeon said: "The Great Big Rhino Project was tremendous fun over the summer, and we were sad to see it come to an end, so we wanted to undertake one last hurrah of fundraising to close out 2016 in style."
She continued: "By asking our staff, as well as our clients, we were able to put together an excellent array of goods, which managed to raise some fantastic sums at auction. The generosity of our staff – and clients – has been terrific throughout the summer and we'd really like to thank everyone for getting involved."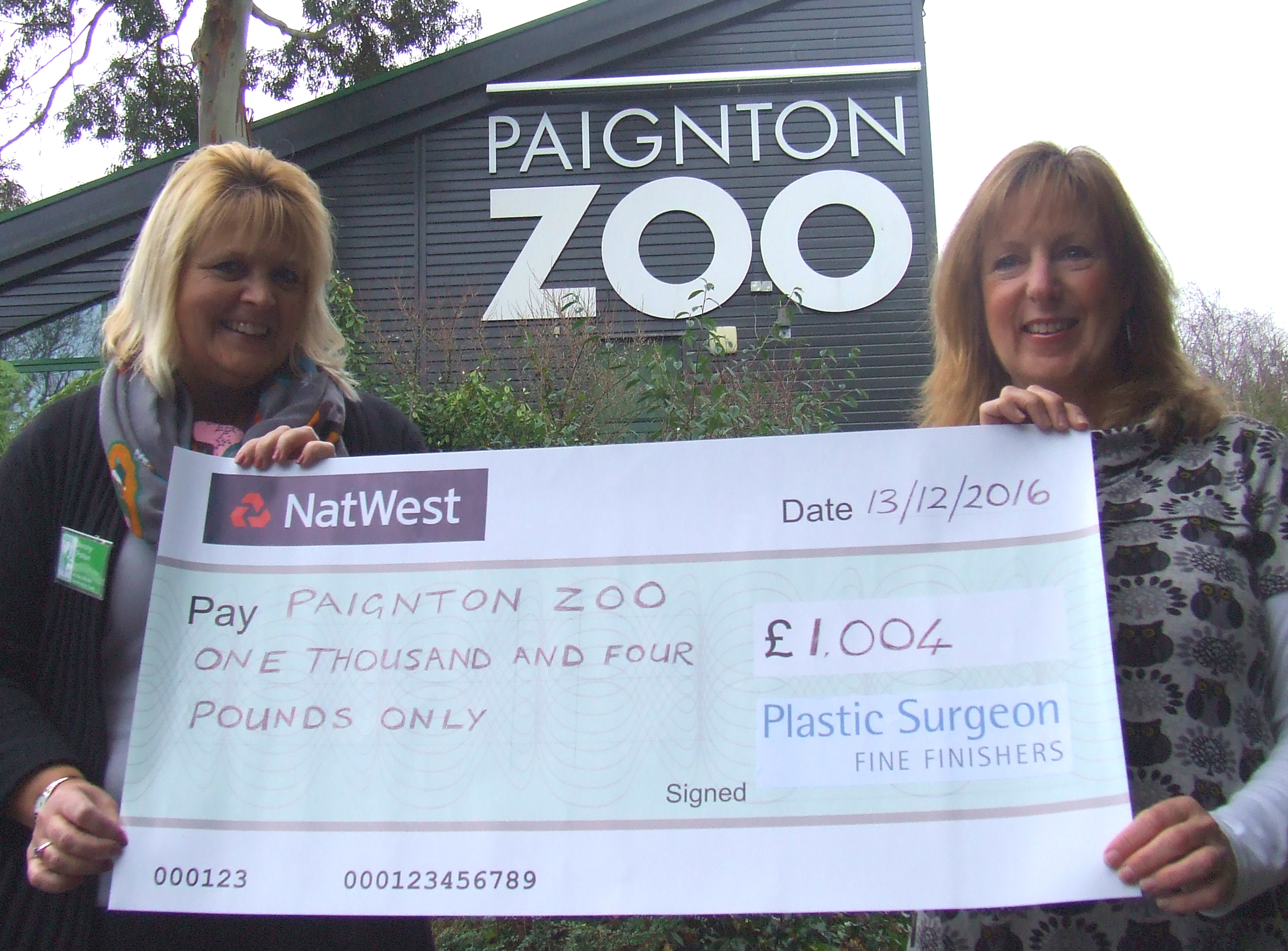 The Great Big Rhino Project has been fundraising for rhino conservation across the course of the summer through the implementation of a trail of life-size rhino sculptures. With over 39 rhinos left open to the elements, and with wear and tear from overeager members of the public a factor, Plastic Surgeon had been using its specialist repair skills to keep the rhinos in good condition, forming the Rhino Repair Squad specially for the task.
The culmination of the trail involved a closing auction, where the rhino sculptures were sold off to the highest bidder. Plastic Surgeon successfully bid on RhinoBeta3107, a rhino that had received extensive repairs during the trail thanks to two separate acts of vandalism, adding £2,100 to the auction's total of £123,000.
The Plastic Surgeon team undertook numerous fundraising events in addition to its repair squad work, including a charity car wash, various fancy dress days and cake sales as part of its overall fundraising efforts for the project. The in-house auction took the final total raised by Plastic Surgeon in 2016 to just over £3,000.
Cathy Baillie said: "We're extremely proud to have contributed to, and to have been so involved with the Great Big Rhino Project. It's for a fantastic cause and well worth the effort we've put in. To have raised the achieved amount is down to lots of hard work by our team, who were fully supportive of the fundraising. And we also can't forget the excellent repair work by the Rhino Repair Squad, especially Chris Garner, our Head of Rhino Repair. The rhinos were in great condition for the final auction, which helped to increase their appeal and saleability."
Phil Knowling, Press Officer at Paignton Zoo commented: "Plastic Surgeon was right behind the Great Big Rhino Project from the start – and the Rhino Repair Squad was absolutely vital during the summer. Chris Garner is a hero! Our charity's conservation work with rhinos and other species relies on teamwork and partnership. It's been a real joy to work with Plastic Surgeon."
To find out more about the Great Big Rhino Project visit www.greatbigrhinos.org.uk.
For more information on surface repair work please visit www.plastic-surgeon.co.uk
You can also join us on our social media pages, follow us on Facebook or Twitter and keep up to date with whats going on in South Devon. Got a news story, blog or press release that you'd like to share? Contact us