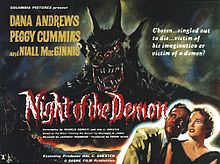 "Mr. Crowley, what went on in your head?
Oh, Mr. Crowley, did you talk to the dead?
Your life style to me seemed so tragic
With the thrill of it all
You fooled all the people with magic
You waited on Satan's call"
Ozzy Osbourne

Here at WASD we've mentioned Torquay resident Aleister Crowley before – a man whose reputation made him notorious during the twentieth century as the archetype of occult evil. The articles we ran had good feedback so here's some more on the influence that Aleister has had on macabre cinema.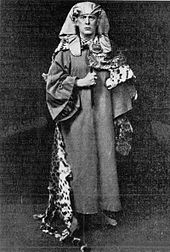 Born in 1875, Aleister was a mystic and magician, responsible for founding the religious philosophy of Thelema. He's probably best known today for his magical writings and is recognised as one of the most influential occultists of all time. His dedication to excess, however, left a series of deeply damaged women and men its wake. As a consequence, he gained widespread notoriety during his lifetime, and was denounced in the Edwardian popular press as "the wickedest man in the world."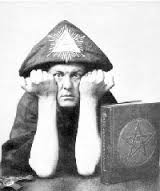 Aleister's occult career began in 1891 when he lost his virginity at the age of 15 to a young actress in Torquay. At the time, when his horrified mother learned of his loss of innocence she condemned her teenage son as the 'Beast'. This was the title Crowley was to adopt as he went on to provoke and outrage a staid Christian society. Later in his life, he returned to Torquay, staying first at the Grand and then in a house in Barton.
Aleister was referenced in early cinema right from its beginnings. In 1908 the British author W Somerset Maugham wrote the novel 'The Magician'. The book was written in London, after Maugham had spent some time living in Paris, where he met Aleister. In the tale, the magician Oliver Haddo, based on Aleister, attempts to create life. Aleister was unamused, however, and he wrote a critique of the book under the pen name Oliver Haddo. In 1926 Rex Ingram directed the movie version of 'The Magician', starring Paul Wegener and Alice Terry. Remaining affronted by his portrayal and what he saw as plagiarism of his work, Aleister took legal action in an attempt to prevent the film's release in France. Here's a short excerpt:
In 1934 came 'The Black Cat', Universal Pictures' biggest box office hit of the year. The picture was the first of eight movies to pair actors Bela Lugosi (well known to audiences as Dracula) and Boris Karloff (similarly recognised as Frankenstein's Monster). This movie was notable for being one of the first movies with an almost continuous music score. Karloff's Satanist character of Hjalmar Poelzig was based on Aleister:
In 1952 Ian Fleming was writing his first novel entitled 'Casino Royale' and wanted an arch-villain to rival his new hero, James Bond. Aleister was the perfect embodiment of evil, intelligence and cunning. Hence, a resident of Torquay's Great Hill Road became the model for the Le Chiffre character. As well as Le Chiffre in 'Casino Royale', the later Bond super-villain Ernst Stavro Blofeld was also supposedly inspired by Crowley. It's suggested that Crowley's demand that he should be addressed by an aristocratic title he had invented, 'Sir Crowley', was the inspiration for one of the major plot points in 'On Her Majesty's Secret Service' (1969). This was when Blofeld threatens to cause mass destruction if his coat of arms isn't recognised. Donald Pleasence took the role in 'You Only Live Twice' in 1967, followed by Kojak star Telly Savalas in 1969's 'On Her Majesty's Secret Service'. In 1971 Charles Gray was Blofeld in 'Diamonds Are Forever'. Here's Donald Pleasence in the role:
The British horror classic 'Night of the Demon' (1957) was directed by Jacques Tourneur and starred Dana Andrews, Peggy Cummins and Niall MacGinnis. The film was an adaptation of the MR James story 'Casting the Runes' (1911) and the plot revolves around an American psychologist investigating a satanic cult suspected of a series of murders.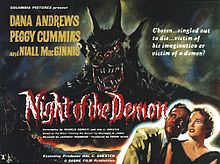 The cult's leader Dr. Julian Karswell was, of course, based on Aleister. This remains a chilling movie – director Martin Scorsese put 'Night of the Demon' on his list of the 11 scariest horror films of all time. As a bit of movie trivia, the opening song from The Rocky Horror Picture Show' 'Science Fiction/Double Feature' includes the line, "Dana Andrews said prunes gave him the runes/And passing them uses lots of skill"- referencing 'Night of the Demon'.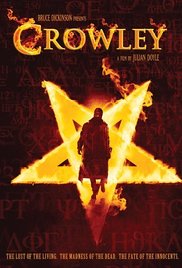 2008's 'Chemical Wedding' (released in the US as 'Crowley') was directed by Julian Doyle and based on an original screenplay by Iron Maiden's Bruce Dickinson. The storyline has Professor Oliver Haddo, a modern Cambridge scholar, entering a virtual reality machine and becoming possessed by Aleister's spirit, the machine's program having been corrupted by a former follower. Resurrected 50 years after his death, Crowley relaunches his occult experiments, the focus of which is the search for a new "scarlet bride" whom he can marry in an occult ceremony which will increase his power – starring Simon Callow ('4 Weddings and a Funeral'):
And still they come. 'Aleister Crowley: Legend of the Beast' came out in 2013. The promotion reads, "A man who dared to live by his own true will in a time of ignorance, a man with many demons who invoked and manifested unimaginable spiritual forces, a man who truly understood the realms beyond our reality and claimed, 'Do What You Wilt Shall Be The Whole Of The Law'."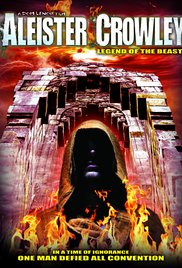 Aleister Crowley died in Hastings in 1947 at the age of 72. The cause of death was given as a respiratory infection. He had become addicted to heroin after being prescribed morphine for his asthma and bronchitis many years earlier. You can be sure, however, that we haven't seen the last of Aleister, as the horror and supernatural genres remain fascinated by 'the wickedest man in the world'.
To close, here's Ozzy Osbourne with 'Mr. Crowley':
…