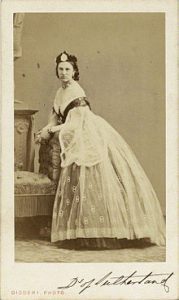 Torquay was once the richest town in England and attracted many of the nation's most affluent, both as visitors and residents. One of these was – take a deep breath – Anne Sutherland-Leveson-Gower, Duchess of Sutherland (1829-1888), 1st Countess of Cromartie, also known as the Marchioness of Stafford. Anne lived at Torquay's Sutherland Tower in the Warberries.
Born Anne Hay-Mackenzie, she was the daughter of John Hay-Mackenzie of Newhall and Cromarty. On 27 June 1849 Anne married George Sutherland-Leveson-Gower, Marquess of Stafford (pictured right and below left). They had five children. George was a Liberal Member of Parliament for Sutherland from 1852 until he succeeded his father as Duke in 1861. As part of his duties he took part in a number of state occasions – he was one of the British delegation to the coronation of Tsar Alexander II of Russia in 1856, he attended the opening of the Suez Canal in 1869, and accompanied the Prince of Wales (later Edward VII) on his state visit to India in 1876.
When George inherited his title in 1861 he accrued lands and estates that made him the tenth richest man in the Western world. The Sutherlands owned 1.4 million acres of land in Britain, Dunrobin Castle in Scotland and Trentham Hall, Cliveden and Stafford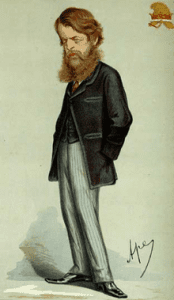 House in England – only Tsar Alexander II of Russia owned more land. Stafford House (now called Lancaster House) was within the precincts of St. James's Palace. When Victoria came to call on the Duchess, she famously remarked, "I have come from my home to your palace".
On 21 October 1861 the title held by Anne's great-great-grandfather, George Mackenzie, was revived when she was created Countess of Cromartie. George, 3rd Earl of Cromartie, had lost his lands and titles when he was found to be on the wrong side of the failed Jacobite rising back in 1745.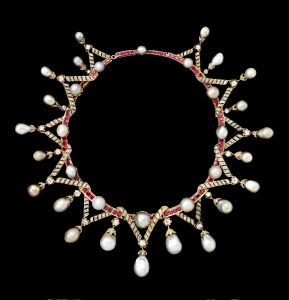 As an example of Anne's wealth we have a necklace featuring twenty one grey natural pearls (pictured right). The pearls date to around 1780 and originally belonged to Marie Antoinette, the last Queen of France. As a token of good faith, Marie Antoinette entrusted the pearls to Lady Sutherland, the wife of the British ambassador (1790-1792) Lord George Leveson-Gower for safekeeping. Lord and Lady Leveson-Gower aided King Louis XVI and Marie Antoinette during their imprisonment and attempted flight from France on June 20th, 1791. The escape failed and Marie Antoinette met Monsieur Guillotine in 1793. After the Queen's execution, the pearls were mounted as a necklace for the marriage of George and Anne on June 20th, 1849.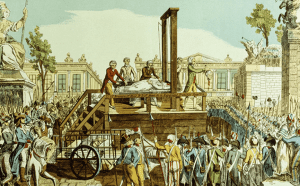 The Duchess was known for her liberal opinions. She opposed slavery, and in 1864 received the Italian national hero Garibaldi who most of her social class viewed as little more than a common revolutionary.
It's also in her role as confidant to Queen Victoria from 1870 to 1874 that Anne is worth noting. Anne was a close friend of Victoria, and when Elizabeth, the daughter of Harriet Sutherland-Leveson-Gower, 2nd Duchess of Sutherland (1806-1868) became ill, Anne was appointed by the Queen to serve as her Mistress of the Robes. The close relationship between Anne and Victoria is reflected in their correspondence where the Queen refers to the Duchess simply as 'Annie'. These give an insight into the life and views of the Queen of the British Empire.
Many of the letters from Victoria refer to her thoughts about contemporary political issues. In one letter of July 21st 1870, the Queen comments on the Franco-Prussian War. Victoria asks Anne (pictured left) to be discreet in repeating her remarks. She writes: "Dear Annie, Might I ask you to be very cautious in speaking of what I may have said about this wicked war?" The Queen wrote that she considered the war to be "wicked & unjust" and that she felt "the greatest anxiety" for her family who she feared would "suffer cruelly in consequence".
The Queen's letters further reflect contemporary social and moral views such as this example on the topic of the acceptability of divorced women. In a letter dated May 3 1874 Victoria explains her reasons for refusing to receive a lady named Effie Millais (pictured right). Effie had been married to John Ruskin but left him to marry the artist John Millais. 'Annie' had written attempting to persuade the Queen to receive the divorcée, but Victoria replied that, "the rule has always been adhered to" and she refused to make an exception and meet Effie. She commented that receiving the lady would be "opening the door to many others" and would cause "remarks of every kind & sort which would be much more injurious to the Lady than her not being received". The Queen concluded her letter by instructing Anne, "you should advise Mrs Millais in her own interest to say no more about it".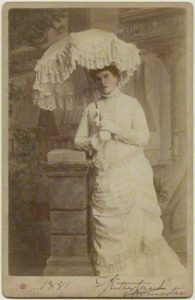 To show the Queen's appreciation of Anne's friendship, the Duchess of Sutherland was awarded the Order of Victoria and Albert (3rd class).
The Sutherlands' marriage was, however, an unhappy one due to the Duke's many infidelities. The Duchess did consider divorce proceedings but was discouraged on the advice of Queen Victoria. Nevertheless, the marriage collapsed in the early 1880s.
Anne died at the family's London mansion, Stafford House, St James' Park, in 1888, aged 59. She was "buried at the cemetery belonging to All Saints Church, Babbacombe."
The ending of the marriage of Anne and George had been hastened when a guest of a house party at Pitlochry Castle, a Captain Arthur Blair, was shot dead. It emerged that the Duke had formed a relationship with the Captain's wife Mary Caroline Blair (pictured right). Captain Blair, formerly of the 71st Highland Light Infantry had resigned his commission in the Highlanders in 1861 and worked as a land agent and business manager for George. Although Blair's death in 1883 was officially recorded as accidental, there was speculation at the time that it may have been suicide or even murder. On the death of Anne, Sutherland married Mary. Though George was estranged from Anne for many years before her death, his marriage to Mary, less than four months after Anne's death, caused a scandal – the conventional minimum period between the death of a spouse and remarriage being one year.
George died aged sixty-three, at Dunrobin Castle in 1892. Shortly before his death, he disinherited his natural heirs and tried to leave all his money to his second wife. Mary, however, was later found guilty of destroying documents and imprisoned for six weeks. The family later made a substantial settlement in her favour, enabling her to build Carbisdale Castle between 1906 and 1917. Indeed, Mary lived a very luxurious lifestyle with an annual income of £100,000. Mary, now known as Duchess Blair, married thirdly in 1896 to Sir Albert Kaye Rollit (1842–1922), MP for Islington South.